As happens every year, not every film hyped as a possible major awards contender lived up to expectations. (I'm looking at you
mother!
,
Roman J Israel Esq
, and
Downsizing
.) However, there were more than enough high quality films to compile a top 15 Best Movies of 2017 list, along with a few left over to acknowledge as Honorable Mentions.
2017's Top 15 list includes a gritty Western, an epic fairy tale, a timely true story, an adorable gigantic pig tale, and one of the few decent romantic comedies to come along in the past decade. A crime thriller starring two members of the Avengers, a high octane music-driven action film, a comic book-inspired female empowerment action drama, a nightmare-inducing killer clown film, and two incredible coming of age stories also made this year's Best Movies list.
The following list represents my personal favorite films of 2017, although it's possible that after I've published the list I'll think of one or two additional films that should have made the cut. Since it's a matter of personal taste, your list will most likely be very different from mine. These 15 movies represent 2017 films that made a lasting impression, sparked conversations/debates, and/or introduced a new talent either in front of or behind the camera. Box office gross, genre, and whether a film comes from a major studio or was an independent production did not play any role in my selection process.
The 15 Best Movies of 2017:
15. Okja starring An Seo Hyun, Tilda Swinton, Jake Gyllenhaal, Paul Dano, Steven Yeun, Devon Bostick, Lily Collins, and Byun Heebong
The Plot: Okja follows Mija, a young girl who must risk everything to prevent a powerful, multi-national company from kidnapping her best friend – a massive animal named 'Okja'.
14. The Big Sick starring Kumail Nanjiani, Zoe Kazan, Holly Hunter, and Ray Romano
The Plot: Based on the real-life courtship courtship between Kumail Nanjiani and Emily V. Gordon, The Big Sick tells the story of Pakistan-born aspiring comedian Kumail (Nanjiani), who connects with grad student Emily (Kazan) after one of his standup sets. However, what they thought would be just a one-night stand blossoms into the real thing, which complicates the life that is expected of Kumail by his traditional Muslim parents. When Emily is beset with a mystery illness, it forces Kumail to navigate the medical crisis with her parents, Beth and Terry (Hunter and Romano) who he's never met, while dealing with the emotional tug-of- war between his family and his heart.
13. The Post starring Tom Hanks, Meryl Streep, Matthew Rhys, Bob Odenkirk, Carrie Coon, Michael Stuhlbarg, Tracy Letts, and Jesse Plemons
The Plot: Steven Spielberg directs Meryl Streep and Tom Hanks in The Post, a thrilling drama about the unlikely partnership of Katharine Graham (Streep), the first female publisher of The Washington Post, and its driven editor Ben Bradlee (Hanks), as they race to catch up with The New York Times to expose a massive cover-up of government secrets that spanned three decades and four U.S. Presidents. The two must overcome their differences as they risk their careers—and their very freedom—to bring long-buried truths to light.
12. Hostiles starring Christian Bale, Rosamund Pike, Wes Studi, Jesse Plemons, Adam Beach, Ben Foster, Rory Cochrane, and Q'orianka Kilcher
The Plot: Set in 1892, Hostiles tells the story of a legendary Army Captain (Bale) who, after stern resistance, reluctantly agrees to escort a dying Cheyenne war chief (Studi) and his family back home to tribal lands. Making the harrowing and perilous journey from New Mexico to the grasslands of Montana, the former rivals encounter a young widow (Pike) whose family was murdered on the plains. Together, they must join forces to overcome the punishing landscape, hostile Comanche, and vicious outliers they encounter along the way.
11. Wind River starring Jeremy Renner, Elizabeth Olsen, Gil Birmingham, Jon Bernthal, Julia Jones, Kelsey Asbille, and James Jordan
The Plot: Wind River is a chilling thriller that follows a rookie FBI agent (Olsen) who teams up with a local game tracker with deep community ties and a haunted past (Renner) to investigate the murder of a local girl on a remote Native American Reservation in the hopes of solving her mysterious death.
10. The Lost City of Z starring Charlie Hunnam, Robert Pattinson, Sienna Miller, and Tom Holland
The Plot: Based on author David Grann's nonfiction bestseller, The Lost City of Z tells the incredible true story of British explorer Percy Fawcett (Hunnam), who journeys into the Amazon at the dawn of the 20th century and discovers evidence of a previously unknown, advanced civilization that may have once inhabited the region. Despite being ridiculed by the scientific establishment who regard indigenous populations as "savages," the determined Fawcett – supported by his devoted wife (Miller), son (Holland) and aide de camp (Pattinson) – returns time and again to his beloved jungle in an attempt to prove his case, culminating in his mysterious disappearance in 1925.
9. Baby Driver starring Ansel Elgort, Lily James, Jon Bernthal, Eiza Gonzalez, Jon Hamm, and Jamie Foxx
The Plot: A talented, young getaway driver (Elgort) relies on the beat of his personal soundtrack to be the best in the game. When he meets the girl of his dreams (James), Baby sees a chance to ditch his criminal life and make a clean getaway. But after being coerced into working for a crime boss, he must face the music when a doomed heist threatens his life, love and freedom.
8. Wonder Woman starring Gal Gadot, Chris Pine, Robin Wright, David Thewlis, Connie Nielsen, Lucy Davis, and Danny Huston
The Plot: Before she was Wonder Woman, she was Diana, princess of the Amazons, trained to be an unconquerable warrior. Raised on a sheltered island paradise, when an American pilot crashes on their shores and tells of a massive conflict raging in the outside world, Diana leaves her home, convinced she can stop the threat. Fighting alongside man in a war to end all wars, Diana will discover her full powers…and her true destiny.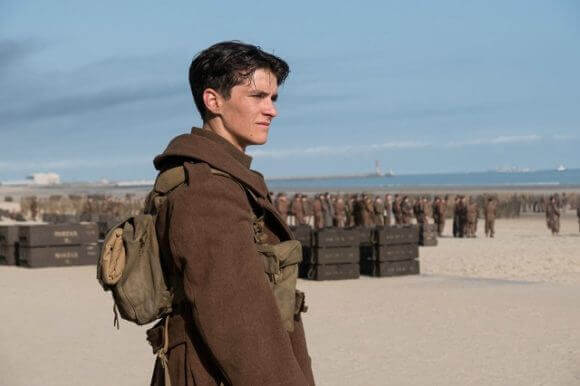 7. Dunkirk starring Tom Hardy, Harry Styles, Mark Rylance, Kenneth Branagh, Cillian Murphy, Fionn Whitehead, and Barry Keoghan
The Plot: Dunkirk opens as hundreds of thousands of British and Allied troops are surrounded by enemy forces. Trapped on the beach with their backs to the sea they face an impossible situation as the enemy closes in.
6. It starring Bill Skarsgard, Jaeden Lieberher, Jeremy Ray Taylor, Sophia Lillis, Finn Wolfhard, Wyatt Oleff, Chosen Jacobs, Jack Dylan Grazer, Nicholas Hamilton, and Jackson Robert Scott
The Plot: When children begin to disappear in the town of Derry, Maine, a group of young kids are faced with their biggest fears when they square off against an evil clown named Pennywise (Skarsgard), whose history of murder and violence dates back for centuries.
5. Three Billboards Outside of Ebbing, Missouri starring Frances McDormand, Woody Harrelson, Sam Rockwell, Abbie Cornish, Lucas Hedges, Caleb Landry Jones, Clarke Peters, Samantha Weaving, John Hawkes, and Peter Dinklage
The Plot: Three Billboards Outside Ebbing, Missouri is a darkly comic drama from Academy Award winner Martin McDonagh. After months have passed without a culprit in her daughter's murder case, Mildred Hayes (McDormand) makes a bold move, painting three signs leading into her town with a controversial message directed at William Willoughby (Harrelson), the town's revered chief of police. When his second-in-command Officer Dixon (Rockwell), an immature mother's boy with a penchant for violence, gets involved, the battle between Mildred and Ebbing's law enforcement is only exacerbated.
4. Get Out starring Daniel Kaluuya, Allison Williams, Bradley Whitford, Catherine Keener, Caleb Landry Jones, and LilRel Howery
The Plot: When a young African-American man visits his white girlfriend's family estate, he becomes ensnared in a more sinister real reason for the invitation. Now that Chris (Kaluuya) and his girlfriend, Rose (Williams), have reached the meet-the-parents milestone of dating, she invites him for a weekend getaway upstate with Missy (Keener) and Dean (Whitford). At first, Chris reads the family's overly accommodating behavior as nervous attempts to deal with their daughter's interracial relationship, but as the weekend progresses, a series of increasingly disturbing discoveries lead him to a truth that he could have never imagined.
3. Call Me by Your Name starring Timothée Chalamet, Armie Hammer, Michael Stuhlbarg, and Amira Casar
The Plot: In the summer of 1983, in the north of Italy, Elio Perlman (Chalamet), a 17-year-old American spends his days in his family's 17th century villa lazily transcribing music and flirting with his friend Marzia (Esther Garrel). One day Oliver (Hammer), a 24-year-old graduate student working on his doctorate arrives as the annual summer intern tasked with helping Elio's father (Stuhlbarg), an eminent professor specializing in Greco-Roman culture. Soon, Elio and Oliver discover a summer that will alter their lives forever.
2. The Shape of Water starring Sally Hawkins, Michael Shannon, Richard Jenkins, Doug Jones, Michael Stuhlbarg, and Octavia Spencer
The Plot: From master storyteller Guillermo del Toro comes The Shape of Water – an other-worldly fairy tale, set against the backdrop of Cold War era America circa 1962. In the hidden high-security government laboratory where she works, lonely Elisa (Hawkins) is trapped in a life of isolation. Elisa's life is changed forever when she and co-worker Zelda (Spencer) discover a secret classified experiment.
1. Lady Bird starring Saoirse Ronan, Laurie Metcalf, Tracy Letts, Lucas Hedges, Timothée Chalamet, and Beanie Feldstein
The Plot: In Lady Bird, Greta Gerwig reveals herself to be a bold new cinematic voice with her directorial debut, excavating both the humor and pathos in the turbulent bond between a mother and her teenage daughter. Christine "Lady Bird" McPherson (Ronan) fights against but is exactly like her wildly loving, deeply opinionated and strong-willed mom (Metcalf), a nurse working tirelessly to keep her family afloat after Lady Bird's father (Letts) loses his job.
Set in Sacramento, California in 2002, amidst a rapidly shifting American economic landscape, Lady Bird is an affecting look at the relationships that shape us, the beliefs that define us, and the unmatched beauty of a place called home.
* * * * * * * * * * * * * * *
Honorable Mentions: The Disaster Artist, Mudbound, Darkest Hour, Logan, The Beguiled, The Killing of a Sacred Deer, and The Florida Project
Also of Interest: