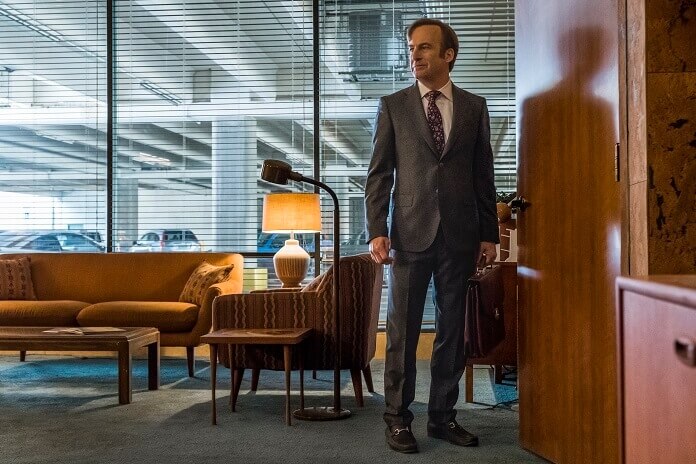 AMC has set an August 6, 2018 premiere date for the fourth season of the critically acclaimed drama, Better Call Saul, starring Bob Odenkirk. Better Call Saul will air on Mondays at 9pm ET/PT followed by the new comedy series Lodge 49 with Wyatt Russell and Brent Jennings at 10pm ET/PT.
In addition to announcing the August premiere date, AMC also released two photos each from Better Call Saul and Lodge 49.
"Monday nights have become a destination for our character-driven dramas, and we loved the idea of pairing these two series, which are similar in their darkly comedic tone and led by two charming yet complicated characters facing huge life moments," stated David Madden, president of original programming for AMC, SundanceTV and AMC Studios. "We're excited to share the next chapter in Jimmy McGill's journey towards Saul on one of television's most celebrated shows, and to introduce viewers to the unfailingly optimistic underdog Dud, who's looking for his place and his moral purpose in a cynical and confusing world."
Better Call Saul has earned 23 Emmy Award nominations, three Critics' Choice Awards, and a Peabody Award. The Breaking Bad spinoff was created by Vince Gilligan and Peter Gould. Gould, Gilligan, Mark Johnson, Melissa Bernstein, Thomas Schnauz and Gennifer Hutchison serve as executive producers. The cast is led by Bob Odenkirk and includes Jonathan Banks, Rhea Seehorn, Patrick Fabian, Michael Mando, and Giancarlo Esposito.
New series Lodge 49 was created by Middle Men's Jim Gavin who also writes and executive produces. Pushing Daisies' Peter Ocko is the season one showrunner and executive produces with Paul Giamatti, Dan Carey, and Jeff Freilich.
The Better Call Saul Season 4 Plot: In Better Call Saul's fourth season, Chuck's death catalyzes Jimmy McGill's (Odenkirk) transformation into Saul Goodman. In the wake of his loss, Jimmy takes steps into the criminal world that will put his future as a lawyer – and his relationship with Kim (Rhea Seehorn) – in jeopardy. Chuck's (Michael McKean) death deeply affects former colleagues Howard (Patrick Fabian) and Kim as well, putting the two of them once again on opposite sides of a battle sparked by the Brothers McGill.
Meanwhile, Mike Ehrmantraut takes a more active role as Madrigal Electromotive's newest (and most thorough) security consultant. It's a volatile time to be in Gus Fring's employ, as Hector's collapse sends shock waves throughout the Albuquerque underworld and throws the cartel into chaos — tearing apart both Gus and Nacho's well-laid plans. While Gus changes course, Nacho finds himself in the crosshairs of deadly forces.
The Lodge 49 Plot: Lodge 49 is a light-hearted, endearing modern fable set in Long Beach, California about a disarmingly optimistic local ex-surfer, Dud (Russell), who's drifting after the death of his father and collapse of the family business. Dud serendipitously finds himself on the doorstep of a rundown fraternal lodge, where a middle-aged plumbing salesman and "Luminous Knight" of the order, Ernie (Jennings), welcomes him into a world of cheap beer, easy camaraderie and the promise of Alchemical mysteries that may — or may not — put Dud on the path to recover the idyllic life he's lost.