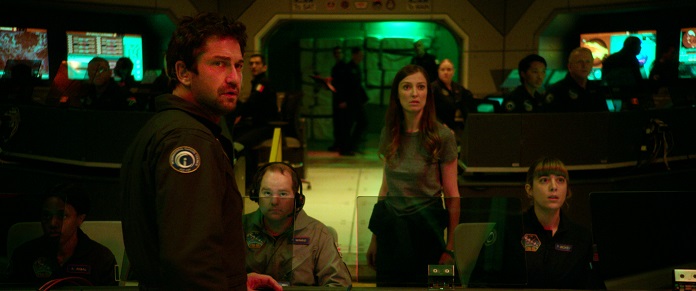 Turns out there's a legitimate reason Warner Bros Pictures chose not to screen Geostorm for critics in advance of its theatrical opening. The $120-ish million disaster film which marked the directorial debut of writer/producer Dean Devlin played to near empty theaters, ringing up a measly $13 million over its first three days in release. The Snowman, based on the bestselling novel by Jo Nesbø and starring Michael Fassbender, is also a box office loser. The film was slammed by critics and apparently in this particular case, ticket buyers agreed with the reviews. CinemaScore has The Snowman sitting at a D as voted on by audiences, and Rotten Tomatoes has the thriller registering a 9% approval rating, with 11 fresh reviews and 113 rotten.
Only the Brave came in at $6 million which was pretty much what everyone expected. The film has received overwhelmingly positive reviews and audiences gave it an A, according to CinemaScore. However, it just couldn't generate much business despite being based on a heroic true story. It's possible strong word of mouth will help Only the Brave out next weekend, however it'll have strong competition from Thank You for Your Service which is going after Only the Brave's target audience.
Tyler Perry's Boo 2! took the top spot, as expected, but it pulled in $7 million less than the original film. Despite not matching the first film's opening numbers, Boo 2! is still sitting pretty on top of the box office chart at $21 million.
Next Up: Opening in theaters over the Halloween 2017 weekend is a new addition to the Saw franchise, Jigsaw. Jigsaw should take over the top spot fairly easily, given the Saw audiences' support of past entries in the horror film franchise. Suburbicon, directed by George Clooney and starring Matt Damon, is also heading to theaters on October 27th.
Box Office Top 10: October 20-22, 2017
Tyler Perry's Boo 2! A Madea Halloween – $21,650,000
Geostorm – $13,300,000
Happy Death Day – $9,375,000
Blade Runner 2049 – $7,155,000
Only the Brave – $6,010,000
The Foreigner – $5,450,000
It – $3,500,000
The Snowman – $3,442,000
American Made – $3,162,000
Kingsman: The Golden Circle – $3,000,000