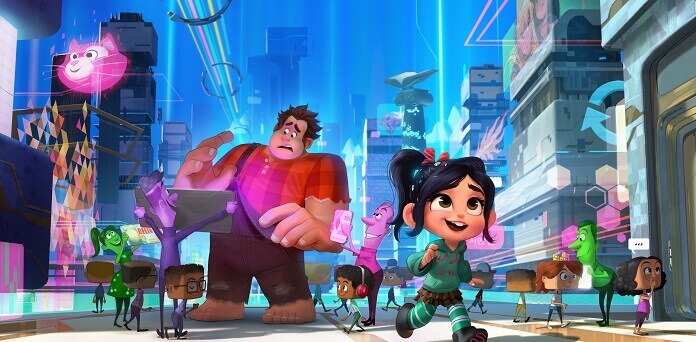 Disney's animated sequel, Ralph Breaks the Internet, continued in the top spot at the box office for the second weekend. The film added an additional $25 million domestically and upped its worldwide theatrical gross to $206 million. The PG-rated Wreck-It Ralph sequel shows no signs of slowing down, and it won't be facing any new family-friendly competition as it heads into its third weekend in theaters.
The Grinch also remains a hot ticket in theaters. The animated comedy based on the classic Dr. Seuss story opened in theaters on November 9th and has raked in $268 million worldwide. Benedict Cumberbatch lends his voice to the title character in the holiday film which should continue to grab audiences as we head toward Christmas.
The sole new release over the November 30th weekend was the R-rated horror movie, The Possession of Hannah Grace. Finishing in seventh place, the horror film didn't impress audiences or critics. However, it did manage to ring up $10 million worldwide, earning back its production budget over its first three days in release.
Box Office Top 10: November 30 – December 2, 2018
Ralph Breaks the Internet – $25,756,000
The Grinch – $17,730,000
Creed 2 – $16,832,000
Fantastic Beasts: The Crimes of Grindelwald – $11,200,000
Bohemian Rhapsody – $8,100,000
Instant Family – $7,150,000
The Possession of Hannah Grace – $6,500,000
Robin Hood – $4,700,000
Widows – $4,400,000
Green Book – $3,900,000
The Ralph Breaks the Internet Plot:
Ralph Breaks the Internet leaves Litwak's video arcade behind, venturing into the uncharted, expansive and thrilling world of the internet—which may or may not survive Ralph's wrecking. Video game bad guy Ralph (voice of John C. Reilly) and fellow misfit Vanellope von Schweetz (voice of Sarah Silverman) must risk it all by traveling to the world wide web in search of a replacement part to save Vanellope's video game, Sugar Rush.
In way over their heads, Ralph and Vanellope rely on the citizens of the internet—the Netizens—to help navigate their way, including Yesss (voice of Taraji P. Henson), who is the head algorithm and the heart and soul of the trend-making site "BuzzzTube," and Shank (voice of Gal Gadot), a tough-as-nails driver from a gritty online auto-racing game called Slaughter Race.