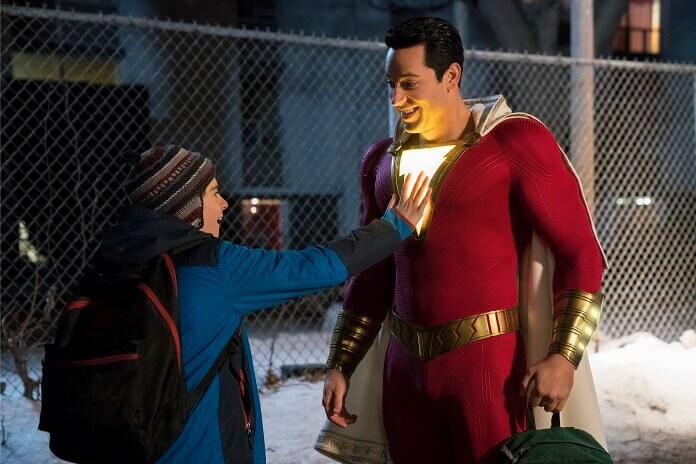 The anticipated battle between comic book-inspired films Shazam! starring Zachary Levi and Hellboy with David Harbour turned out to be a bit of a dud. Shazam! easily hung on to its top spot on the box office chart while Hellboy posted tiny numbers, grossing just $12 million over its first three days in release.
The R-rated action horror comedy struggled to find an audience following negative pre-release buzz and rotten reviews. Just 15% of critics gave Hellboy a positive review on Rotten Tomatoes, and audiences were equally unimpressed. Cinemascore has it sitting at a "C" average, according to ticket buyers.
Newcomers Little and After exceeded expectations, but the animated family-friendly film Missing Link missed its target. According to Box Office Mojo, Missing Link's $5.8 million is the lowest opening for a Laika release.
Up next: Shazam! should retain its grip on 1st place over the April 19-21st weekend. It's only competition will come from the horror film The Curse of La Llorona opening in 3,400 theaters and Penguins from Disneynature.
Box Office Top 10: April 12-14, 2019
Shazam! – $25,140,000
Little – $15,499,000
Hellboy – $12,015,000
Pet Sematary – $10,000,000
Dumbo – $9,186,000
Captain Marvel – $8,626,000
Us – $6,946,000
After – $6,200,000
Missing Link – $5,841,434
The Best of Enemies – $2,000,000
The Shazam! Plot:
We all have a superhero inside us, it just takes a bit of magic to bring it out. In Billy Batson's (Asher Angel) case, by shouting out one word—SHAZAM!—this streetwise 14-year-old foster kid can turn into the adult Super Hero Shazam (Zachary Levi), courtesy of an ancient wizard. Still a kid at heart—inside a ripped, godlike body—Shazam revels in this adult version of himself by doing what any teen would do with superpowers: have fun with them! Can he fly? Does he have X-ray vision? Can he shoot lightning out of his hands? Can he skip his social studies test?
Shazam sets out to test the limits of his abilities with the joyful recklessness of a child. But he'll need to master these powers quickly in order to fight the deadly forces of evil controlled by Dr. Thaddeus Sivana (Mark Strong).