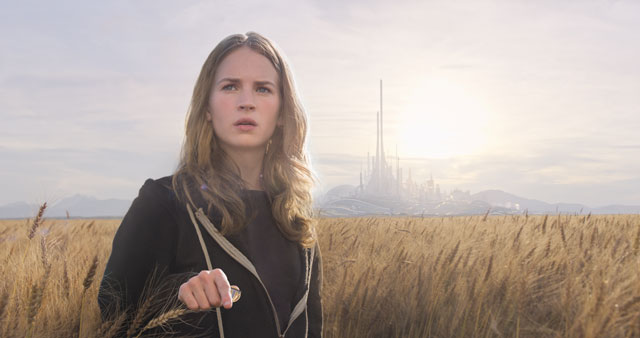 Britt Robertson, who stars opposite George Clooney in Disney's upcoming sci-fi adventure Tomorrowland, has been named as the recipient of this year's CinemaCon Star of Tomorrow Award. Managing Director of CinemaCon Mitch Neuhauser announced the honor, stating, "With an already stellar resume under her belt Britt Robertson has proven to critics and audiences alike that she has an undeniable talent and ability to hold her own with some of the most proclaimed actors and actresses of our generation. With her upcoming role in Tomorrowland Robertson will once again showcase that she is a force to be reckoned with and we could not be more thrilled to present her with this year's 'CinemaCon 2015 Star of Tomorrow Award.'"
CinemaCon is the annual gathering of members of the National Association of Theatre Owners (NATO) and this year's convention will take place April 20 – 23 at Caesars Palace in Las Vegas. Robertson will accept her Star of Tomorrow award during the CinemaCon Big Screen Achievement Awards ceremony on April 23rd.
Disney's Tomorrowland was directed by Brad Bird and opens in theaters on May 22, 2015. The cast also includes Hugh Laurie, Raffey Cassidy, Tim McGraw, Kathryn Hahn, Keegan-Michael Key and Thomas Robinson.
Robertson will also be seen starring opposite Scott Eastwood in 20th Century Fox's The Longest Ride coming to theaters on April 10th. Her other credits include Life Unexpected, Under the Dome, The Secret Circle, Delivery Man, and Cake.
-By Rebecca Murray
Follow Us On: