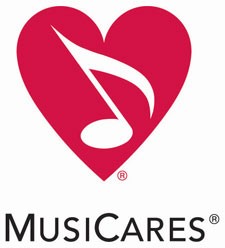 The MusiCares Foundation has selected Grammy winner Carole King as the 2014 MusiCares Person of the Year. King will receive the much-deserved honor at the January 24th MusiCares fundraising event in Los Angeles. The annual gala dinner and concert helps to raise money for the MusiCares Foundation established to help people in need of medical and financial assistance.

King was chosen to receive the honor for "her extraordinary creative accomplishments as well as her significant charitable work, which has included an impressive range of philanthropic activities over the years. In addition to her continuously evolving musical career, King is actively involved with environmental organizations in support of forest ecosystem protection as well as a range of political causes."

"We are honored to celebrate Carole King as the 2014 MusiCares Person of the Year," stated Neil Portnow, President/CEO of the MusiCares Foundation® and The Recording Academy®. "Her contributions as a songwriter and performer have truly changed the landscape of pop music, and her philanthropy speaks volumes about her generosity and personal passions. We are also grateful to the extraordinary artists who have announced their desire to be a part of what will undoubtedly be a magical and inspiring evening."

Bill Silva, Chair of the MusiCares Foundation Board, added, "Carole's artistic output is remarkable in its depth, her influence and charitable legacy are equally impressive, and her approach to art and life is enthusiastic and joyous. It is going to be an exceptional MusiCares Person of the Year tribute, and we also want to express our gratitude to our tribute chairs and musical director whose participation will ensure the success of our annual benefit."

The Dixie Chicks, Lady Gaga, Bette Midler, Jason Mraz, James Taylor, and Steven Tyler will perform at the event and help celebrate King's incredible career.

For more info on the event, visit www.musicares.org.

Source: MusiCares

Follow Us On:
Stumble It!