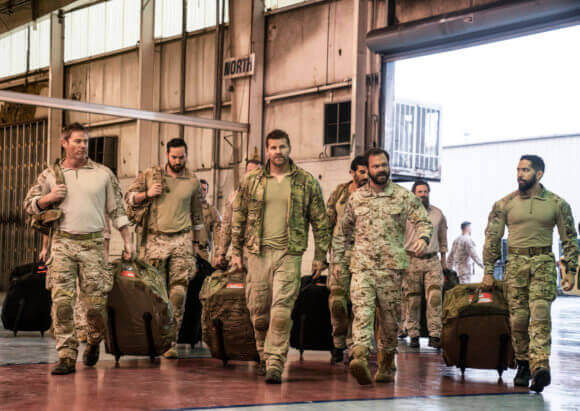 CBS announced the renewal of six more dramas as well as two news programs. SEAL Team and S.W.A.T. will return for season three, and Madam Secretary has been renewed for a sixth season. Bull and MacGyver earned fourth seasons and Hawaii Five-0 will stick around for season 10.
Primetime news shows 60 Minutes and 48 Hours also officially earned renewals for the 2019-2020 season. All told, 18 CBS series have been renewed for the upcoming season.
According to CBS, 60 Minutes' 51st season averages 10.9 million viewers while season 29 of 48 Hours draws in 4.4 million viewers on average. Among the primetime dramas, Bull is averaging 11.4 million, Hawaii Five-0 10.1 million, and Madam Secretary 8.8 million. Both SEAL Team and S.W.A.T. pull in 8.6 million and MacGyver is averaging 7.6 million.
CBS previously announced the renewals of Young Sheldon, Mom, Criminal Minds, NCIS, NCIS: Los Angeles, NCIS: New Orleans, Blue Bloods, FBI, God Friended Me, Magnum P.I., and The Neighborhood.
Series Details, Courtesy of CBS:
SEAL TEAM is a military drama that follows the professional and personal lives of the most elite unit of Navy SEALs as they train for, plan and execute the most dangerous missions that our country can ask of them.
Inspired by the classic television series and feature film, S.W.A.T. tells the story of a locally born-and-raised sergeant tasked with running a specialized tactical unit that is the last stop in law enforcement in Los Angeles.
MADAM SECRETARY follows shrewd, determined Secretary of State Elizabeth McCord, who drives international diplomacy and circumvents protocol as she negotiates global and domestic issues, both at the White House and at home.
BULL is the head of one of the most prolific trial-consulting firms of all time. Brilliant, brash and charming, Dr. Bull is the ultimate puppet master as he combines psychology, human intuition and high-tech data to learn what makes jurors, attorneys, witnesses and the accused tick.
HAWAII FIVE-0 is a contemporary take on the classic series about an elite federalized task force whose mission is to wipe out the crime that washes up on the islands' sun-drenched beaches.
MACGYVER is an action-adventure drama about 20-something Angus "Mac" MacGyver, who creates a clandestine organization within the U.S. government, where he uses his extraordinary talent for unconventional problem-solving and his vast scientific knowledge to save lives.