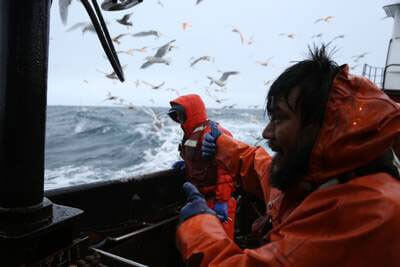 Discovery's set an April 22, 2014 premiere date for the return of the gritty, gripping reality series
Deadliest Catch
. Once again, skippers and their crews will be battling the elements in a quest to haul in King Crab in enough quantities to earn a living. The show will air on Tuesdays at 9pm ET/PT with Josh Harris captaining the Cornelia Marie, Sig Hansen at the helm of the F/V Northwestern, Keith Colburn captaining the Wizard, the Hillstrand brothers back on the Time Bandit, and Skipper Wild Bill Wichrowski returning with the F/V Cape Caution. Captain Scott 'Jr' Campbell is back with the Seabrooke and Elliott Neese (the youngest skipper of the bunch) is in charge of the F/V Saga.
Details on the Deadliest Catch Season 10:
The late Capt. Phil Harris brought notoriety and respect to the industry and to the fishermen who risk their lives in one of the most dangerous jobs around. This season proves to be a momentous one for Phil's son, Josh Harris, who is back as captain and owner of his father's boat the Cornelia Marie. But will he be able to continue his dad's legacy and create one of his own?

There are also big changes on the horizon for the F/V Northwestern. Embarking on her right of passage, Sig Hansen's 18-year-old daughter Mandy joins the ranks as deckhand. In a profession typically dominated by men, Mandy has a lot to prove. But can Sig treat her just like one of the crew? Or will his tendency to over protect get in her way of success?

In the first episode, opening season comes and goes as the captains have been grounded by of all things — politics. For the first time in nearly two decades, a government shutdown brings Washington, D.C., to a screeching halt with its far-reaching effects going well beyond the Beltway.

Eventually the shutdown ends, but it's just the beginning for the captains. Up against a ticking clock of a shortened season, a late start means greater competition than ever before. With a deadline to offload looming and millions of dollars on the line, the captains must lay down the hammer and fish through treacherous weather in hopes of catching their crab on time. With less time and their income at stake, how much can they push their crews before major injury – or even death – strikes?

With the stakes greater than ever, it isn't long before drama hits the Bering Sea. A boat goes up in flames; another runs aground while many more earn record-breaking profits. When the smoke clears, one captain finds himself in rehab and another wakes up in a hospital. Forty-foot waves, hurricane force winds, heavy-machinery and massive icebergs are just a few reasons that no season is ever the same on Deadliest Catch. Surrounded by death and a multitude of injuries these brave men struggle to return from man's oldest journey alive.

Source: Discovery

-Posted by Rebecca Murray
Follow Us On:
Stumble It!