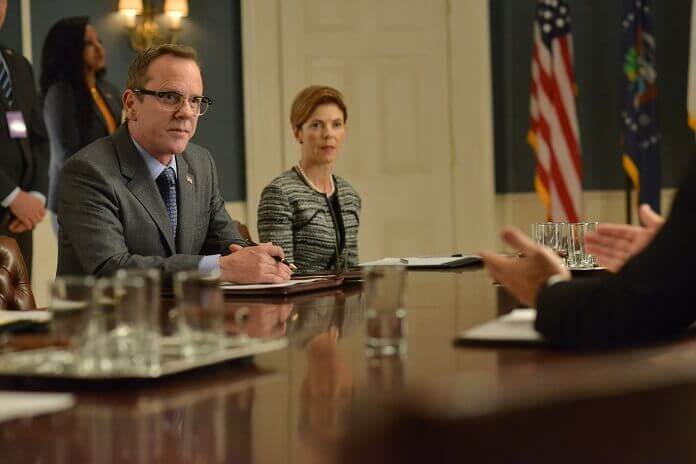 ABC cancelled the dramatic series Designated Survivor after two seasons, but fortunately for fans of the series Netflix has decided to revive it. Netflix confirmed they've picked up the series and will air a third season sometime in 2019.
The third season is expected to start shooting later this year. According to Netflix, the third season will consist of 10 episodes and will have new showrunner Neal Baer from global studio Entertainment One (eOne) on board to guide the show.
The political drama was created by David Guggenheim. Guggenheim executive produces along with Neal Baer, Mark Gordon, Suzan Bymel, Simon Kinberg, Aditya Sood, Peter Noah, and series star Kiefer Sutherland.
Commenting on the renewal, Kiefer Sutherland said, "I am thrilled to have the opportunity to play President Kirkman for season 3 of Designated Survivor with Netflix, eOne and Neal Baer. I believe this format will allow us to continue to delve deeply into storylines and issues concerning the American electorate that were not previously possible."
"The continuation of the show via Netflix is a win-win for all involved. The story of President Kirkman and those around him has not been fully told and we look forward to working with our new partner in continuing the show for a global audience," stated executive producer Mark Gordon.
"Timely and gripping, Designated Survivor has quickened the pulses of our Netflix members outside the US and Canada in its first two seasons. The international audience for the show drove our interest to bring the show to the world as a Netflix original for its third season and we are excited to bring the first 2 seasons to our US and Canadian members as well," added Bela Bajaria.
Seasons one and two will stream on Netflix this fall.
The Designated Survivor Season 3 Plot: President Kirkman will face a political reality… campaigning. What does it take to make a leader? What price will he be willing to pay? This season will explore today's world of campaigning, smear tactics, debates, campaign finance and "fake news." Democracy, as we know it, will hang in the balance.