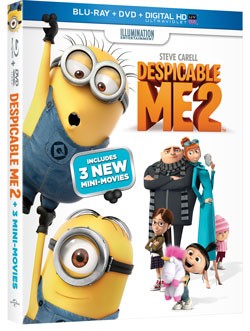 $80 million…that's how much Despicable Me 2 took in over its first week in release on Blu-ray, DVD, and digital formats. And according to Universal Studios Home Entertainment, that $80 million figure is enough to give Despicable Me 2 the title for the biggest first week sales of any animated Blu-ray title in history.
Four and a half million units were sold and the digital release of Despicable Me 2 is on pace to set a new record as the biggest-selling digital title of all time. During its theatrical run Despicable Me 2 rung up enough business at the box office to be the title holder for the animated film of 2013. The animated sequel featuring the voices of Steve Carell as Gru, Kristen Wiig as Lucy, Miranda Cosgrove as Margo, Benjamin Bratt as Eduardo / El Macho, and Russell Brand as Dr. Nefario made $918 million worldwide.
"Chris Meledandri and his team at Illumination have made Despicable Me 2 part of what has become one of the most beloved and inspired film franchises of our generation," said Craig Kornblau, President, Universal Studios Home Entertainment. "Despicable Me 2's astonishing results across both packaged media and digital underscores the resounding demand among consumers of all ages to have instant access to the film anytime, anywhere and cements it as one of the greatest must-own movies ever."
The Despicable Me 2 Plot:
Gru, his adorable girls, and the mischievous Minions are back with a cast of unforgettable new characters in the blockbuster sequel to the worldwide phenomenon. Just as Gru has given up being super-bad to be a super-dad, the Anti-Villain League recruits him to track down a new criminal mastermind and save the world. Partnered with secret agent Lucy Wilde, Gru, along with the wildly unpredictable Minions, must figure out how to keep his cover while also keeping up with his duties as a father.