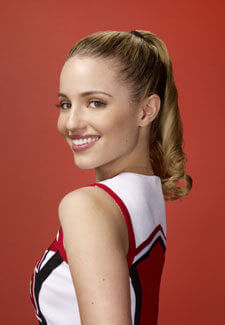 Glee veteran Dianna Agron and series newbie Grant Gustin will be guest mentoring on this season of The Glee Project. Agron will help out the contestants on the 'Actability' theme night while Gustin takes on mentoring duties on the 'Theatricality' episode.
Other Glee cast members mentoring this season include Jane Lynch, Amber Riley, Darren Criss, and Chris Colfer.
Details on the 'Actability' and 'Theatricality' Episodes [Courtesy of Oxygen]:
"On Tuesday, July 17, one of the newest Dalton Academy Warblers, Grant Gustin, brings a piece of his Glee character to The Glee Project classroom for 'Theatricality' week. Gustin was discovered by casting director and on-air mentor of The Glee Project, Robert Ulrich, while he was performing in the first national tour of the Broadway revival of West Side Story. With a strong musical theater background, Gustin gives sound insight into his personal experiences and inspires the remaining contenders to play up their theatrical sides during the main challenge.
Then, on Tuesday, August 7, Dianna Agron talks about her Glee character for the newly created theme 'Actability.' Agron's role on Glee has been a staple figure throughout the series and she has had to adapt to some of the most difficult life situations in order to play a teenager on-screen. Agron shares her unique experiences with the remaining contenders as they prepare for their biggest acting challenge yet."
The Glee Project airs on Tuesdays at 10pm.
Source: Oxygen