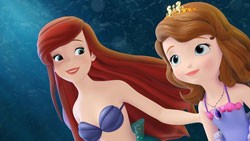 Sofia the First
and
Doc McStuffins
have both been picked up for third seasons by Disney Junior while
Jake and the Never Land Pirates
has received a fourth season order. "
Sofia the First
,
Doc McStuffins
and
Jake and the Never Land Pirates
do what Disney does best — tell great stories with humor and heart," said Nancy Kanter, Disney Junior Worldwide Executive Vice President, Original Programming and General Manager. "We've seen these series connect with our audience around the world and across platforms in meaningful ways, and we have many more stories to tell. We look forward to developing new narratives that will put our charismatic princess Sofia, aspiring doctor Doc, and inspiring hero Jake into exciting new situations and locales."
The three renewed series rank in the top 10 in cable shows for kids two through five years old.
Doc McStuffins
Plot:
Disney Junior's animated series
Doc McStuffins
tells the story of a nurturing six-year-old girl who can talk to the stuffed animals and toys that she cares for in her playhouse clinic. When Doc puts on her stethoscope, something magical happens; toys, dolls and stuffed animals come to life and she can communicate with all of them, including the toys belonging to her friends and other neighborhood kids.
Jake and the Never Land Pirates
Plot:
Jake and the Never Land Pirates
is a music-filled interactive treasure hunt that introduces a crew of kid pirates — leader Jake and pals Izzy and Cubby — and follows their Never Land adventures as they work to outwit two infamous characters, the one and only Captain Hook and Mr. Smee, from Disney's classic
Peter Pan
.
Each episode features two 11-minute adventures as Jake and team and their lookout parrot, Skully, sail on the good ship Bucky, miles from their Pirate Island hideout on a lost treasure hunt. Along the way, they model teamwork, problem-solving and physical activity as they learn to maneuver around Hook and Smee, earning gold doubloons as they conquer tasks including crossing a muddy swamp, swinging on vines and sliding down waterfalls.
Sofia the First
Plot:
Disney Junior's animated television series
Sofia the First
is set in the storybook world of Enchancia and tells the story of Princess Sofia, an adventurous little girl who is learning how to adjust to royal life after her mom marries the king and she becomes a princess overnight.
Source: Disney Jr
-Posted by
Rebecca Murray
Follow Us On:
Stumble It!