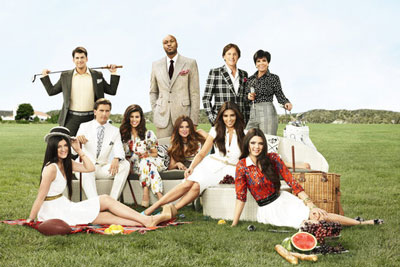 I'm sorry to any Kardashian fans out there, but I can't even pretend to be excited/interested in this bit of news. However, far be it for me to withhold any Kardashian information from those who are into the family's goings-on.
Keeping Up with the Kardashians
will premiere on June 2, 2013 at 9pm, kicking off an 18 episode season.
The Story Details:
Keeping Up with the Kardashians
is returning this summer in an all-new season that once again takes viewers inside the ever-evolving, unfiltered relationships of this close-knit, blended family. Kris, Bruce, Kourtney, Kim, Khloé, Rob, Kendall and Kylie are known for boisterously celebrating life's golden moments and fiercely banding together when mishaps threaten their strong bonds. As their lives evolve, the always outspoken and unpredictable family are sticking together through all the laughs, cries and inevitable drama in between.
The Kardashian/Jenner brood includes a number of children and grandchildren, with a new array of dramatic and heartwarming moments at every turn. This season the family embraces change on several fronts, with younger sisters Kendall and Kylie growing up and striving for more independence from each other and the family; Bruce and his son Brody making an effort to spend more time together; Khloé facing startling feelings about Kendall and Kylie as they grow into young adults; Kourtney drawing a line in the sand with Scott when he wants to take their relationship to another level and the impending and anxiously awaited arrival of Kim's first child.
Source: E!
Follow Us On: