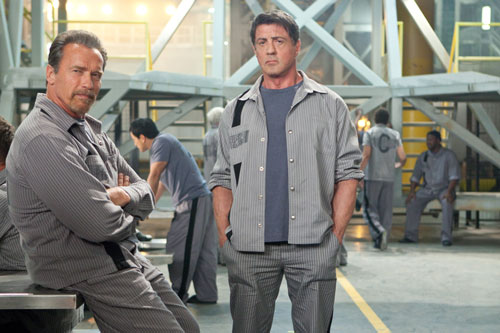 Summit will host the premiere screening of the action film
Escape Plan
during the 2013 San Diego Comic Con. The film pairs up Sylvester Stallone and Arnold Schwarzenegger in lead roles, and the two action stars are set to make an appearance at the special fan screening.
Escape Plan
will screen at the Reading Cinemas Gaslamp 15 on Thursday, July 18th. According to Summit, screening passes will be distributed at Summit's booth on the convention floor, outside the Reading Cinemas Gaslamp, and via an online giveaway.
There will also be a fan line starting at 5pm outside the theater with more passes to be made available to lucky action movie fans.
The Plot:
One of the world's foremost authorities on structural security agrees to take on one last job: breaking out of an ultra-secret, high-tech facility called "The Tomb." Deceived and wrongly imprisoned, Ray Breslin (Sylvester Stallone) must recruit fellow inmate Emil Rottmayer (Arnold Schwarzenegger) to help devise a daring, nearly impossible plan to escape from the most protected and fortified prison ever built.
Summit's releasing
Escape Plan
in theaters on October 18, 2013.
Follow Us On: