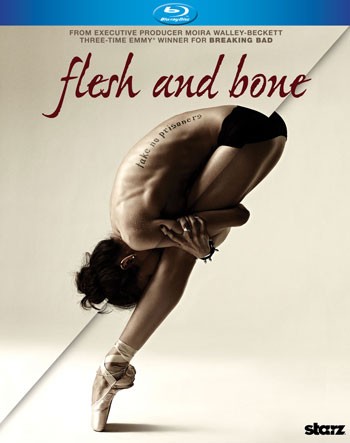 Starz' riveting dramatic series Flesh and Bone, which earned two Golden Globe nominations, is set in the world of ballet and features accomplished ballet dancers including former American Ballet Theatre principal Sarah Hay in the lead role of troubled-but-brilliant dancer Claire. The cast of season one also includes American Ballet Theatre soloist Sascha Radetsky, former American Ballet Theatre principal Irina Dvorovenko, Emily Tyra, Damon Herriman, Tina Benko, and Ben Daniels (House of Cards).
The eight episode season one premiered on November 8, 2015 and arrived on Blu-ray and DVD on January 5th, and thanks to Anchor Bay we have copies of Flesh and Bone season one on Blu-ray to give away to lucky winners! We also have an exclusive behind-the-scenes video spotlighting the dancers and the audition process.
For a chance to win Flesh and Bone on Blu-ray, simply send an email to [email protected] with "Flesh and Bone" in the subject line. Only one email entry per email address is allowed and you must be 18 years or older to enter the contest. Enter now for a shot at winning! The contest ends on January 21, 2016 at 6pm PST.
The Plot:
In Flesh and Bone, Claire (Hay) joins a prestigious ballet company in New York. She's beautiful, soulful, talented and an emotionally wounded young woman who somehow still possesses an innate innocence and fragility while at the same time harboring self-destructive tendencies and a vaulting ambition. Claire is a transcendent ballerina, capable of reaching the sublime but her inner torment and aspirations drive her in unforeseeable ways. Along the way, she encounters drugs, sex, starvation, desire, betrayal, pain, punishment, fear, rebellion, insecurity and ambition.
Flesh and Bone Exclusive Behind the Scenes Video: