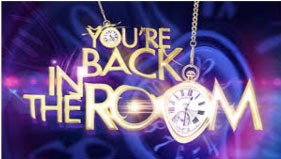 After scoring the #1 spot as the best new unscripted series in 2015 in the U.K., You're Back in the Room is coming to American television on Fox. The network has ordered an eight episode season one of the hour-long game show and is targeting an early 2016 start of production. Fox hasn't announced who will host or when the show will actually air, and it's possible It's possible You're Back in the Room will have a different title when it premieres in 2016.
Karen Smith is on board as executive producer, along with Tuesday's Child and BBC Worldwide Productions.
According to Fox, the comedy game show "features physical comedy and unpredictable situations as contestants are challenged to complete a variety of simple, everyday tasks, from frosting a cake to painting a picture…after being hypnotized."
You're Back in the Room also airs in France, The Netherlands, Australia, Belgium, Brazil, Chile, Columbia, Denmark, Germany, Italy, New Zealand, Norway, Peru, Portugal and Spain.