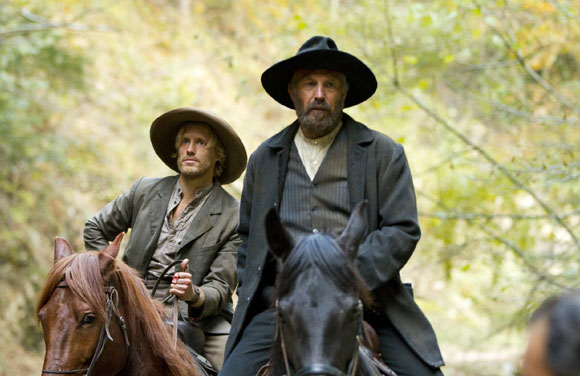 Just how popular was the Hatfields & McCoys miniseries? The History Channel says the historical Western shattered records with 14.3 million viewers on the final night of the three-part series. The miniseries has set a new record for the "top 3 entertainment television telecasts of all time in ad-supported cable history among total viewers."
According to History Channel, the series averaged an incredible 13.8 total viewers (6 million Adults 25-54 and 4.9 million Adults 18-49). The 4.9 million adults in the 18-49 age range "made it the highest rated mini series or movie on cable since 1998." More than 17 million people watched both the premiere and encore telecast, with the second night's show attracting 13.1 million total viewers. And in a rare feat, Hatfields & McCoys' second part retained 100% delivery from the first night.
Thanks to Hatfields & McCoys, History Channel finished first in the prime-time race on May 29th among total viewers, Adults 25-54 and Adults 18-49.
The Plot:
Hatfields & McCoys is the story of a clash of clans that evoked great passion, vengeance, courage, sacrifice, crimes and accusations, and includes a cast of characters that changed the families and the history of the region forever. The Hatfield-McCoy saga begins with Devil Anse Hatfield and Randall McCoy. Close friends and comrades until near the end of the Civil War, they return to their neighboring homes – Hatfield in West Virginia, McCoy just across the Tug River border in Kentucky – to increasing tensions, misunderstandings and resentments that soon explode into all-out warfare between the families. As hostilities grow, friends, neighbors and outside forces join the fight, bringing the two states to the brink of another Civil War.
The cast includes Kevin Costner, Bill Paxton, Tom Berenger, Powers Boothe, Mare Winningham, Matt Barr, Noel Fisher, Boyd Holbrook, Andrew Howard, Jena Malone, Sarah Parish, Lindsay Pulsipher, and Ronan Vibert.
Source: History Channel