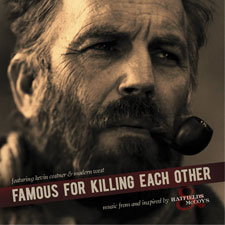 Madison Gate Records just released the soundtrack to Hatfields & McCoys, the History Channel miniseries starring Kevin Costner as Devil Anse Hatfield and Bill Paxton as Randall McCoy. Costner and his band Modern West are featured on Famous For Killing Each Other: Music From and Inspired by Hatfields & McCoys, with Costner and his group also responsible for writing the songs and producing the album.
The album features the miniseries' theme song, "I Know These Hills," as well as 18 other songs.
According to Costner, the album is "a musical picture of time and place with original songs and instrumentals that we hope can transport you back in time and perhaps help you feel the excitement I felt while filming this epic story. We weren't trying to specifically recreate the music of that era. We wanted to capture the heart and the soul of the families who were torn apart in the Hatfields and McCoys feud. Even though the musical soul of our album is centered in the hills of Appalachia, in the time right after the Civil War, the feelings we tried to portray are universal."
Famous For Killing Each Other: Music From and Inspired by Hatfields & McCoys Track List:
1. Hammer And Guns
2. How Deep The Water Runs
3. Late Dobro
4. I Know These Hills (feat. Sara Beck)
5. River Runs Red
6. I Look To No One
7. Hypnotic Heartbeats
8. The Old Oak Tree
9. I Will Lay You Down
10. Night Riders (John Debney)
11. Oh, Malley-Mae (Lily Costner & Modern West)
12. Cold Dark Morning
13. Intense
14. Killing Season
15. Lillie Dreams
16. Famous For Killing Each Other
17. Peace In The Valley
18. Ominous
19. Devil's A Long Way From Home
The Plot of Hatfields & McCoys:
It's the true American story of a legendary family feud – one that spanned decades and nearly launched a war between Kentucky and West Virginia. Hatfields & McCoys, a new three-part, six-hour scripted miniseries, showcases an all-star cast led by Academy® Award winner Kevin Costner and Golden Globe® nominee Bill Paxton starring as "Devil Anse" Hatfield and Randall McCoy, respectively. The miniseries premieres on May 28, 29 and 30, at 9 p.m. on HISTORY®.
Source: Sony Pictures Entertainment