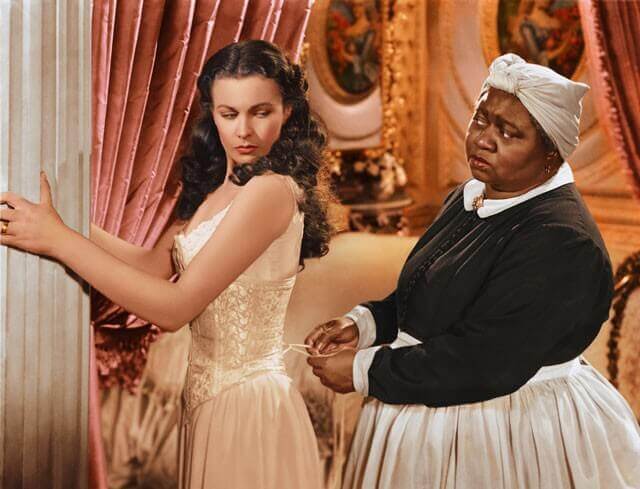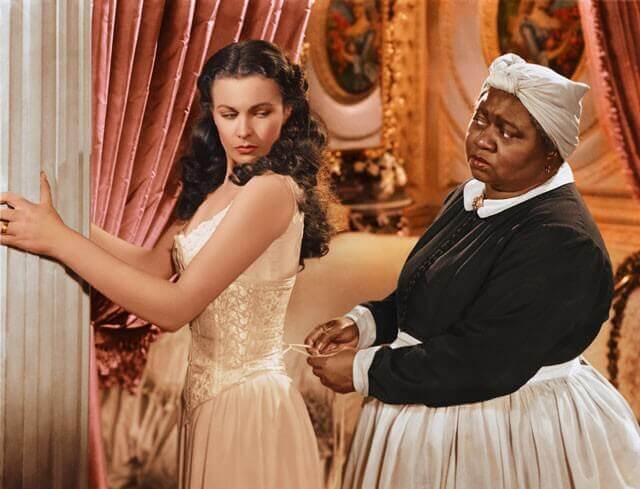 Everybody loved Hattie McDaniel. She had one of those personalities that simply made you smile and want to cuddle her. She achieved world-wide fame when she was the first African-American to win a Best Supporting Actress Oscar® for her role as "Mammy" in the spectacular 1939 David O. Selznick production of Gone With the Wind at the ceremonies in 1940. It was a sensation at the time because previously no black entertainer had ever been nominated in the all-white film industry.
McDaniel was born June 10, 1895 to former slaves. The family of 13 children moved from Wichita, Kansas to Denver in 1900. It was there Hattie graduated from Denver East High School. Her family was a musically-oriented group, as several siblings and her mother were singers and performers. She and her brothers formed a minstrel show during which Hattie honed her songwriting skills.
From 1920 to 1925 she performed with Melody Hounds, a touring black ensemble. They got a break by singing on the radio in Denver, which led to Hattie signing contracts to record her songs on the Okeh, Paramount, and Meritt labels during the years 1926 to 1929.
Unfortunately, the Stock Market Crash came in 1929 and wiped out millionaires by the dozens. There was no work for anybody, and Hattie was caught in the unemployment trap. She took a job as a washroom attendant while working as a waitress at a nightclub in Milwaukee. She convinced the club owner to let her go on stage one night and she knocked them dead. She became a regular in the show.
Hollywood was a bright and sunny place filled with orange groves along Sunset Boulevard when Hattie moved out to LA in 1931 with her brother and two sisters. She took jobs working as a maid and a cook. Her brother Sam worked at radio station KNX and got her a spot as "High Hat Hattie" on the comedy "The Optimistic Do-Nut Hour" where she became a hit.
Being in Hollywood, the urge to crack into films was a strong one. Hattie got a part as a maid in the 1932 film The Golden West. The voluptuous Mae West hired Hattie to be her manicurist in the rollicking and campy comedy I'm No Angel in 1933 at Paramount. Mae threw out some of her funniest lines and sexual innuendos at newcomer Cary Grant. West sparred with Hattie, and the film was a laugh riot. Film critic James Robert Parish wrote: "The most freewheeling of all Mae's screen vehicles, and the most satisfying of the lot." West was famous for the risqué lines "It's not the men in your life that count, it's the life in your men," and, "When I'm good I'm very good, but when I'm bad I'm better." Hattie just rolled with Mae's punches and the two got along just fine.
The year 1934 saw Hattie playing her first major role in Judge Priest, directed by soon-to-be-legendary director John Ford. She got a chance to sing a duet with Will Rogers. Another big break came her way from 20th Century Fox when they cast her and fellow African-American entertainer and dancer supreme Bill "Bojangles" Robinson in the Shirley Temple musical The Little Colonel (1935).
The 1930s were the years when McDaniel was building up her reputation in such A-list films as RKO's Alice Adams with Katharine Hepburn in 1935, China Seas with MGM's platinum bombshell Jean Harlow, the great Universal Pictures' Southern-themed musical Show Boat (1936) in which Hattie sang with stars Irene Dunne, torch singer Helen Morgan, and black singer Paul Robeson. She again went over to MGM to appear with Clark Gable and Jean Harlow in Saratoga (1937), and then made appearances in the Technicolor comedy Nothing Sacred (1937) at Selznick with Fredric March and Carole Lombard, the Ginger Rogers/James Stewart romantic comedy Vivacious Lady (1938) at RKO, and The Mad Miss Manton (1938) with the zany Barbara Stanwyck and Henry Fonda also at RKO.
Life was not all peaches and cream for the comic actress. McDaniel was accused by the NAACP of pandering to Hollywood and not standing up for blacks to get better roles. Her response was, "Why should I complain about making $700 a week playing a maid? If I didn't, I'd be making $7 a week being one." She had them there.
McDaniel was not the first choice to play Mammy in Gone With the Wind. There were other actresses who auditioned for the role, but Hattie had an extra advantage: Clark Gable was a friend after having made several other pictures together. Gable recommended her and that was that. When Hattie auditioned in a maid's uniform, Selznick was sold. She went on to steal every scene she was in, and that led to her being nominated for a Best Supporting Actress Oscar.
When the premiere of the film was held in Atlanta, Georgia (home of the book's author Margaret Mitchell) on December 15, 1939, McDaniel was not allowed to attend because of racial prejudice that was rampant in the South. Gable came to her defense, but McDaniel graciously bowed out and decided instead to attend the Hollywood premiere on December 29, 1939.
At the Oscar ceremony, Hattie McDaniel was the first African-American to ever win an Academy Award. During part of her acceptance speech she said, "I shall always hold it as a beacon for anything that I may be able to do in the future."
Winning the Oscar helped to keep her employed, but it did nothing to get her out of playing maids and secondary roles. She did manage, however, to work with top people in the industry such as Bette Davis in the Warner Bros. hit In This Our Life (1942), the second film directed by John Huston (Maltese Falcon). The film was based upon the 1941 Pulitzer Prize-winning novel by Ellen Glasgow. Others in the cast were George Brent, Olivia deHavilland, Dennis Morgan, and Lee Patrick.
During World War II the military was segregated. Hattie set up an acting and entertaining troupe to visit black soldiers in military hospitals and camps. Bette Davis was the only white star who was a member of McDaniels' entertainers. Despite all her USO work for the fighting men, but she managed to squeeze in parts in Thank Your Lucky Stars with Miss Davis and Warner's top male star Humphrey Bogart as well as the comedy The Male Animal (1942) with Henry Fonda, Olivia de Havilland, Jack Carson, and Joan Leslie.
One of the most popular films during the war was Since You Went Away (1944) from producer David O. Selznick. It was definitely a tearjerker, but it was also a flag-waving patriotic film that got people into the theatre. Max Steiner won an Oscar for his music, and the picture received Academy Award nominations for Best Picture, and acting nods to Claudette Colbert, Jennifer Jones, and Monty Wooley, as well as for Art Direction and Editing. Once again McDaniel was part of a superb film.
Film roles were slim for Hattie McDaniel in the late '40s. She did a role in Mickey in 1948 and in 1949's Family Honeymoon at Universal with Fred MacMurray and Claudette Colbert. With film roles rapidly disappearing, McDaniel turned to radio and did the comedy series "Beulah." She was the first African-American to star in her own radio show. The show was a huge hit and executives at ABC-TV proposed she do a television series of the comedy antics of the feisty maid. The show was a huge hit. Unfortunately, during the run of the show McDaniel was diagnosed with breast cancer and had to leave the series. Excellent actress Louise Beavers replaced McDaniel in 1952.
Ms. McDaniel was taken to the Motion Picture House Hospital in Los Angeles where industry members are cared for during their illnesses. At the age of only 57, Hattie McDaniel died on October 26, 1952. Thousands of mourners were at her funeral at Angelus-Rosedale Cemetery. Out of the 86 films she made, Hattie will always be remembered as the feisty, funny, no-nonsense Mammy in Gone With the Wind.