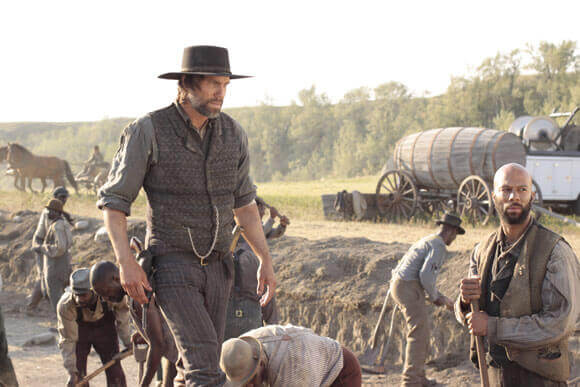 AMC's set an August 2, 2014 premiere date for the fourth season of Hell On Wheels starring Anson Mount, Colm Meaney, and Common. The Western drama will air at 9pm on Saturdays through October 4th, take a few weeks off, and then return for the last three episodes on November 8th.
Hell On Wheels' season three averaged 3.3 million viewers, impressive enough to earn an expanded 13 episode run for season four.
"We're thrilled to bring Hell On Wheels back for another season. Its success on Saturday night reflects the strength and broad appeal of the show, and we're incredibly excited to share the continuation of this story with the millions of loyal Hell On Wheels fans," said Joel Stillerman, AMC's executive vice president of original programming, production and digital.
"We're excited about the stories we're telling in season four," said series executive producer and showrunner, John Wirth. "The consequences of the stories we told last year will continue to reverberate throughout the season, and fans can expect to see some shocking events that will not only change the lives of our characters, but the landscape of the series as the railroad continues its relentless march westward."
Details on Season 4 of Hell On Wheels:
Season Three of Hell On Wheels ended with Cullen Bohannon (Anson Mount) married to a pregnant Naomi and living in the Mormon fort where the Swede (Christopher Heyerdahl) was impersonating church leader, Bishop Dutson; Thomas "Doc" Durant (Colm Meaney) back in control of the Union Pacific Railroad which had successfully expanded westward to Cheyenne; and Elam (Common), gravely injured by a bear while searching for the missing Cullen. As Season Four unfolds, civilization makes its way west with the railroad, bringing with it men who attempt to do with their pens what rougher men did in seasons past with their guns. Conflict between government and big business, ranchers, homesteaders and the railroad will continue to define the drama as all of those interests compete with one another for control of Cheyenne, Wyoming, the "Magic City of the Plains," and the most important railroad hub in the country. The season will also introduce several new characters including John Campbell (Jake Weber).
Source: AMC
Follow Us On:
Stumble It!