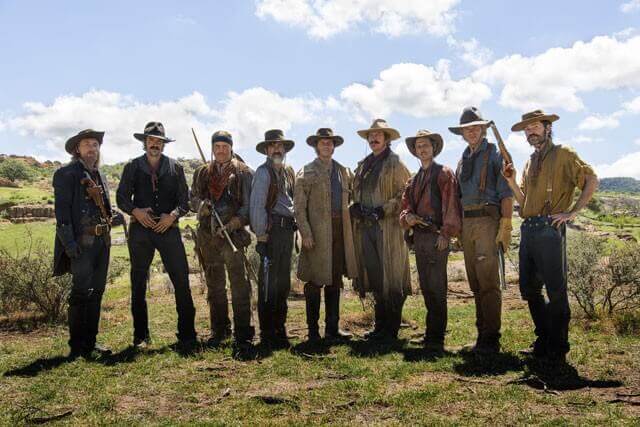 History's 2015 summer lineup will include four new shows, the limited series Texas Rising, and four returning series. New to the network this summer are Alone, Forged in Fire, Leepu & Pitbull, and Lost in Transmission, joining returning series American Pickers, Counting Cars, Mountain Men and Pawn Stars on the summer schedule.
In addition to releasing the premiere dates and air times, History also provided details on all of the shows in the network's summer lineup:
American Pickers – Wednesday, May 6 at 9 p.m.
This is not your grandmother's antiquing. Mike and Frank earn a living by scouring the backwoods and dirt roads of the US and rescue forgotten relics. On this season of American Pickers, Mike and Frank continue their mission to recycle America by rescuing forgotten relics and giving them a new lease on life, while learning a thing or two about American history on the way. In the season opener, Dan Auerbach of the Black Keys shows interest in a vintage Chet Atkins Gretsch guitar that Mike stumbled across in South Carolina.
Pawn Stars – Thursday, May 7 at 9 p.m. ET
This summer, the stakes are higher than ever when Rick takes a big gamble and hauls thousands and thousands of dollars' worth of his items to a major auction in Los Angeles. But unlike the Pawn shop, once an item is up for auction, he can't control what it sells for. Will Rick win big or will this be a total loss? Regardless, Los Angeles proves to have even more to offer, as Rick bounces around town looking to buy a few big pieces. His biggest stop….the home of a client boasting one of the biggest private collections of Disney memorabilia in the world. Back in Vegas, boys will be boys when Corey and Chum eye a mini monster truck – the Ultra 4 Race Car – that's over $20,000 and they guys can't help but "geek out" when an original Star Wars script signed by George Lucas and one-of-a-kind movie props come into the store with an asking price of $100,000.
Lost in Transmission – Thursday, May 7 at 10 p.m. ET
One man's clunker is another man's treasure couldn't be truer for automotive aficionado and Top Gear co-host, Rutledge Wood and fellow car fanatic, George Flanigen. These two men are on a mission – rescue America's forgotten classic cars that are sitting in ruins in barns, garages and the backyards of America and take HISTORY viewers along for the ride. In each episode, Rutledge and George will rescue under-appreciated examples of automotive styling that time has forgotten – from resurrecting a 1981 DeLorean that was submerged in Hurricane Sandy to an insect infested 1964 Ford F100 – they will fix them up and get them back on the road. Go along for the ride with two buddies on the ultimate road trip… saving America's greatest, weirdest and coolest cars.
Texas Rising – Monday, May 25 at 9 p.m. ET
HISTORY's ten-hour television event series Texas Rising stars Bill Paxton, Brendan Fraser, Ray Liotta, Jeffrey Dean Morgan, Olivier Martinez, Thomas Jane, Crispin Glover, Rhys Coiro, Jeremy Davies, Cynthia Addai-Robinson, Christopher McDonald, Max Thieriot, Chad Michael Murray, Robert Knepper, Jeff Fahey, Rob Morrow, Kris Kristofferson and is directed by Two-time Oscar-nominated director Roland Joffé. The Alamo was not the end of the story, it was only the beginning, and Texas Rising details what followed in the fight for an independent Texas. In 1836, west of the Mississippi was considered the Wild West and the Texas frontier was viewed as hell on earth. With colliding cultures all fighting for stakes to this territory, no one was safe. But this was a time of bravery, a time to die for what you believed in and a time to stand tall against the fierce Mexican General Santa Anna and his forces. General Sam Houston, the rag tag Rangers and the legendary "Yellow Rose of Texas," lead this story of the human will to fight for independence despite nearly insurmountable odds and to claim a piece of history for all eternity.
Leepu & Pitbull – Tuesday, June 16 at 10 p.m. ET
HISTORY® follows master mechanic "Pitbull" Steve and renowned Bangladeshi car designer, who is named Leepu, as they transform heaps of metal into a cash-producing business venture. Each week a customer with a beloved clunker, great story and small budget asks this odd couple to convert their bucket of bolts into a cool custom car. In this high-risk and high-octane undertaking, it's up to Leepu & Pitbull to turn their differences into inspiration…as they MacGuyver fixes to build winning wheels, satisfy the customer and rev up the riches.
Counting Cars – Tuesday, June 16 at 9 p.m.
In this season of Counting Cars Danny Koker takes the team deep into the world of Rock & Roll and continues to push the crew to build the baddest rides around. Count's Kustoms is hired by the family of rock & roll icon Les Paul to build a one-of-a-kind custom bike to be unveiled at a huge event commemorating the 100th anniversary of the legendary guitarist's birth. And the rock rolls on with a restoration for Dokken's George Lynch, and a Steven Tyler-themed car for one of Danny's demanding casino clients. Meanwhile Kevin lays down the law as Danny's car addiction grows and he keeps falling in love with his restorations rather than selling them – if he doesn't flip some cars the money will soon dry up.
Alone – Thursday, June 18 at 10 p.m. ET
The ten-episode series is the country's boldest and longest survival experiment ever captured for television. It places ten hardcore survivalists alone in the Vancouver Island wilderness – no camera crew, no teams, no producers – on a single mission to stay alive. At stake is $500,000 awarded to the person who can last the longest. They will face extreme isolation and psychological distress as they plunge into the unknown, self-documenting their experience. ALONE will also air as a synchronized global TV event, airing in over 200 territories worldwide on HISTORY and other channels from the A+E Networks portfolio.
Mountain Men – Thursday, June 18 at 9 p.m. ET
This season, Marty, Tom, Eustace, Rich, Kyle and new Mountain Man Morgan, are preparing early for another long and brutal winter, but remain determined to face the season head on. In Alaska, Marty returns to the Revelation Mountains to put down roots with a new trapline and his family is coming along for the ride, as long as he can finish building the cabin in time. In Montana, a new threat deals an early blow to veteran mountain man Tom, who is left to pick up the pieces as winter sets in and the rules of nature he's come to rely on over his many decades in the Yaak get upended. Rich finds himself battling a full-scale predator invasion in Montana's Ruby Valley as he tries to keep the area's livestock safe and in the Blue Ridge Mountains, Eustace takes a gamble on a new opportunity wrestling 100-foot-tall trees that he hopes will jumpstart his lumber business. While in New Mexico's rugged Cimarron, Kyle works to secure a legacy to pass on to his son, Ben and in Alaska's harsh heart, new mountain man, Morgan, attempts the most epic trek of his life – a nearly 300-mile journey across the Great Alaska Range – to claim his own piece of the last frontier.
Forged in Fire – Monday, June 22 at 10 p.m. ET
The most talented bladesmiths in the world will test their mettle in this cutting-edge competition series. Hosted by weapons expert Wil Willis, a former Army Ranger and decorated Air Force para-rescue specialist, the series will feature world-class bladesmiths creating many of history's most iconic edged weapons, from the Japanese katana to the medieval broadsword to ancient throwing blades like the Chakram.
-By Rebecca Murray
Follow Us On: