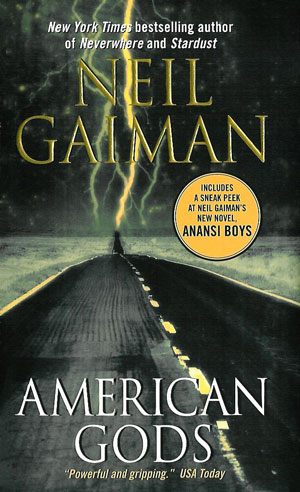 Deadwood star Ian McShane has signed on to the cast of Starz' American Gods based on the fantasy book by Neil Gaiman. McShane will play Mr. Wednesday, joining The 100 star Ricky Whittle who was previously confirmed to play Shadow Moon. Hannibal's Bryan Fuller and Heroes' Michael Green are adapting Gaiman's book for the series and are co-showrunners. David Slade (The Twilight Saga: Eclipse) is on board to direct some of the first season episodes.
Commenting on McShane's casting, Gaiman said, "When you write a beloved character (beloved with, or despite, or because of all his faults) like Mr. Wednesday, you get to watch the internet trying to cast the role. I've seen a hundred names suggested, but few make me grin like Ian McShane does. I've already been lucky enough to have him in one film (he was bright blue in it, animated, and probably Polish). Now I count myself even luckier: he's made the journey from Lovejoy to American Gods. Yesterday was Super Tuesday. Today is Wonderful Wednesday."
"Actor. Icon. And now god. It is a goddamn delight to be collaborating with the incomparable Ian McShane — again and for the first time — on a story about faith and belief, with the utmost faith and belief in Mr. McShane as our Mr. Wednesday," said Fuller and Green. "A wonderful Wednesday indeed."
Shooting's expected to begin in April. Gaiman, Fuller, Green, Slade, Craig Cegielski and Stefanie Berk are the executive producers. Starz has the network pay TV rights and FremantleMedia is the worldwide distributor.
The American Gods Plot: The plot posits a war brewing between old and new gods: the traditional gods of mythological roots from around the world steadily losing believers to an upstart pantheon of gods reflecting society's modern love of money, technology, media, celebrity and drugs.
Mr. Wednesday is a crafty and endlessly charismatic con man, full of perverse wisdom, curious magic, and grand plans. He hires ex-con Shadow Moon to be his bodyguard as he journeys across America, using his charms to recruit others like him as he prepares for the ultimate battle for power.