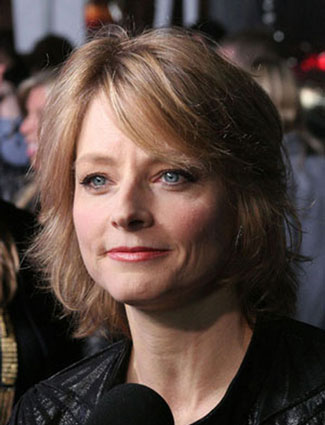 By James Colt Harrison
Having started performing at the tender age of three as a model, Jodie Foster is now considered a pioneer. She became the Coppertone Girl in television commercials and gained some notoriety and Foster, who shot to the top of the box office in the chilling classic Silence of the Lambs in 1991 with Anthony Hopkins, was an apprentice actress throughout her childhood. She performed in many Walt Disney television productions as a latter day Annette Funicello – without the mouse ears.
Jodie was born in 1962 and was the youngest of two sisters (Cindy and Connie) and an older brother, Bud. Mom Brandy raised the kids when their father, Lucius Foster, abandoned them. Brandy saw Jodie's inherent intelligence and enrolled her in the famed Lycee Francais School where the girl learned to speak French fluently.
In the meantime, in between school assignments, Jodie ventured into television, and her first acting role was at the age of six in a 1968 episode of Mayberry with Andy Griffith and Ron Howard. She was later cast in such shows as The Partridge Family with Shirley Jones, Gunsmoke with James Arness, and Daniel Boone with Fess Parker and Veronica Cartwright.
The leap from television to films was rather painless, and her first motion picture part when she was a little tyke of nine was a starring role in 1972's Napoleon and Samantha. La Jolla's Raquel Welch grabbed Jodie for a small art in Kansas City Bomber. Miss Welch, of course, is famous for having been chosen as Fairest of the Fair in Del Mar, CA. Jodie went on to play Becky Thatcher in Tom Sawyer (1972).
While making a good impression in films, she continued to work on TV. She was in two flop series beginning with Bob & Carol & Ted & Alice (based on the hit movie) in 1973. The following year in 1974 she was in Paper Moon playing the same part originated by Tatum O'Neal in the movie. Neither show lasted a year.
Famed director Martin Scorsese (The Wolf of Wall Street) came into Foster's life at this time and thrust her into a small part in 1974's Alice Doesn't Live Here Anymore with star Ellen Burstyn. It was a relationship that would have important consequences in Jodie's future. Several years after their first meeting, Scorsese cast the 13 year-old Foster in Taxi Driver (1976) as a child prostitute. The film caused a furor because of her portrayal of a tramp who was hooked on drugs. Robert De Niro's scenery-chewing performance as a violent assassin bowled over the critics. The youngster was nominated for a Best Supporting Actress Oscar®. Jodie shot to fame in that unusual part and went directly into the campy musical Bugsy Malone (1976) in which she played a gun moll. Her supporting actors were children such as Scott Baio and Michael Jackson. The film was amusing and imaginative under the direction of Alan Parker. The little musical won Foster two British BAFTA awards as Best Actress in a Supporting Role and Best Newcomer.
Having reached the age which Hollywood loves to call "awkward," Jodie worked but found it more difficult to find roles worthy of her grown-up talent. She managed to play a sweet little murderess in The Little Girl Who Lived Down The Lane in 1977 at age 14. She was knocking our socks off even at that age! She picked up a Saturn Award for Best Actress. The Disney Studio called her once again for a part in one of their comedies called Freaky Friday. She changes bodies with her mother in this box office hit film. The film was loaded with veteran comic actors such as Kaye Ballard, Patsy Kelly, Iris Adrian, Ruth Buzzi, Marie Windsor and Fritz Feld. It wasn't a great picture, but it was work.
She was doing better than most teenage actresses, but the jobs became more infrequent. The never-ending task of finding a job is the torture almost every actor has to endure. Good as she was, Jodie was no exception. She became fluent in French because of her school training, making it possible to seek work in Europe. She sang some songs in the 1977 French film Moi, Fleur Bleue and recorded them to great acclaim. She next traveled to Italy to film the comedy Cassotto. These films have never been shown in the United States but are now valuable for the historic significance. Traveling to England she made the Disney comedy Candleshoe at Pinewood Studios with British favorite David Niven and American stage icon Helen Hayes for a 1978 release.
Her teen drama Foxes was released in February 1980 and was about four girls coming of age. It also starred Sally Kellerman, Scott Baio, and Randy Quaid and was director Adrian Lyne's first film. Foster wrapped up 1980 with the traveling carnival film Carny with Gary Busey, Robbie Robertson, Meg Foster and Tim Thomerson. Again, she was better than the material in both films and found it difficult to discover work that was worthy of her unique talents.
The slowing of her career happened at a good time in her life. She was now college age, and since her career was temporarily stalled, it was a perfect time for her to complete her education. Being a very bright young lady, she qualified to attend the prestigious Yale University. Her career was put on hold for four years, and she more or less "retired" from the public eye in order to concentrate on her studies.
Unfortunately, her academic career was greatly disturbed when President Reagan was shot by John Hinckley, Jr. The deranged gunman had a fixation on Foster and the story made headlines around the world as Hinckley was apparently trying to get her attention after having fallen in love with her image in Taxi Driver. It was a nightmare for Jodie, and she was hounded by the media. The near-tragedy eventually quieted down and Jodie returned to her studies at Yale.
She was ready to return to the screen by 1984. She appeared in the coolly-received screen adaptation of John Irving's Hotel New Hampshire with baby-faced Rob Lowe. This was another case of a critically acclaimed novel losing much of its luster when transferred to the silver screen. Jodie's performance was competent, yet the movie stalled at the box office.
It was still rough going for Jodie when her film career went nowhere after making three more flops in a row. Rarely seen were Blood of Others (1984), Mesmerized (1986) which put critics into a stupor, and Siesta, a little surrealist arthouse film co-starring the sultry Ellen Barkin, which almost nobody saw. Martin Sheen, Gabriel Byrne, Isabella Rossellini, Grace Jones and Julian Sands would rather forget being in the picture. Film critic Janet Maslin said it was an "excitingly bad, artily experimental film."
Jodie was wonderful in Five Corners (1988) and Stealing Home (1988), and her career was jump-started again. She was cast in The Accused in the sensational part of a rape victim. Kelly McGillis co-starred as the prosecutor. Jodie's acting was a tour de force and resulted in an Oscar® as Best Actress. She was elevated to that rarefied level of top film star and respected actress.
Then, in one of the biggest grossing films of 1991, Jodie dominated the screen in the chilling Silence of the Lambs, giving co-star Anthony Hopkins a reason to re-think his dinner of fava beans and a nice Chianti. Hopkins created an indelible impression as Hannibal Lecter, a crazed cannibal who terrorized Foster's FBI trainee Clarice Starling. Both were brilliant in the film. She received a BAFTA Award, a Golden Globe Award, and an Oscar® as Best Actress. Silence of the Lambs was only the third film in Hollywood history to win Oscars® in all five categories of Best Picture, Best Actor, Best Actress, Best Director, and Best Adapted Screenplay.
Foster was always clever about her career and decided to expand her talents by directing. Her first directorial effort was Little Man Tate (1991) about a boy (Adam Hann-Byrd) who was a chess genius. Co-starring in the Orion Pictures release were Dianne Wiest and Harry Connick, Jr. She later directed the comedy Home For The Holidays (1995) with Holly Hunter, Anne Bancroft, Robert Downey, Jr., and Dylan McDermott. Her third and most recent directorial effort on film was The Beaver (2011) with Mel Gibson, Foster, Jennifer Lawrence, Anton Yelchin and Cherry Jones. The picture was a tremendous flop and made less that $1 million in ticket sales. It was Foster's worst showing at the box office. To be fair, the picture was released during Gibson's drunken stupor arrests in Malibu and while he was making ugly anti-Semitic tirades.
As a lark in 1991 Foster appeared in Woody Allen's Shadows and Fog. She, Kathy Bates and Lily Tomlin played prostitutes. She switched gears and played in Somersby (1993), set in the Civil War. With Richard Gere providing the romantic interest, the film grossed more than $140 million and was a smash.
She followed those films with the Western comedy Maverick (1994) with James Garner and then Nell, for which she won a Screen Actor's Guild Award.
Academy Award winner Matthew McConaughey (Dallas Buyer's Club) and Foster appeared in the intricately filmed science fiction thriller Contact (1997). The film was a great commercial success, and many accolades were tossed to the stars.
From outer space to Siam (now Thailand) in the 1860s, Foster played a schoolmarm in Anna and the King who was to teach the King's (Chow Yun-Fat) children. Released in December of 1999, the film was a great favorite and became a box office hit around the world. It was adapted from the 1944 novel written by Margaret Landon and based on the 1946 Twentieth Century Fox movie starring Irene Dunne, Rex Harrison and Linda Darnell.
Another stroke of good luck came Foster's way when Nicole Kidman had to leave the production of Panic Room in 2002. Foster took over for Kidman and co-starred with a young Kristen Stewart (Twilight) as her daughter in the thriller. The David Fincher film also starred Oscar® winner Jared Leto (Dallas Buyer's Club), Forrest Whitaker, and Dwight Yoakam. It was one of the biggest world-wide hits of Foster's career.
After making a French language film in France (A Very Long Engagement) in 2004, she returned to Hollywood to make another thriller, Flightplan, in 2005. Jodie plays an aeronautical designer whose daughter is lost on the plane. As luck would have it, the film turned out to be extremely popular around the world.
Director Spike Lee got Jodie to star with Denzel Washington in an urban thriller, Inside Man, in 2006. Yet another hit for Foster, she worked non-stop to complete her next film, The Brave One, in 2007. Leading man Terrence Howard (star of the hit TV show Empire) helped Jodie make this thriller a huge hit. The Golden Globes chose Jodie for a Best Actress nomination.
The prolific actress kept working steadily and appeared in the comedy Nim's Island with Gerard Butler in 2008. As a lark, she did the voice of Maggie in the animated TV show The Simpsons.
The year 2011 was unfortunate for Foster as her comedy The Beaver, in which she starred with pal Mel Gibson, came out amidst all the controversy with Gibson's anti-Semitic rants. The picture was a huge flop and put a black mark on Foster's career. She redeemed herself later that year in Roman Polanski's film Carnage with John C. Reilly (Chicago), Kate Winslet (Titanic) and Christoph Waltz.
Licking her wounds over The Beaver, Foster returned to the megaphone and directed an episode of the extremely popular television series Orange Is The New Black. She lined up several other shows as well and narrated Women in Space in 2014.
What the future will bring for the talented Josie Foster is anybody's guess. We do know whatever she attempts, be it directing or acting or doing voice-overs, it will be a worthy endeavor.
Follow Us On: