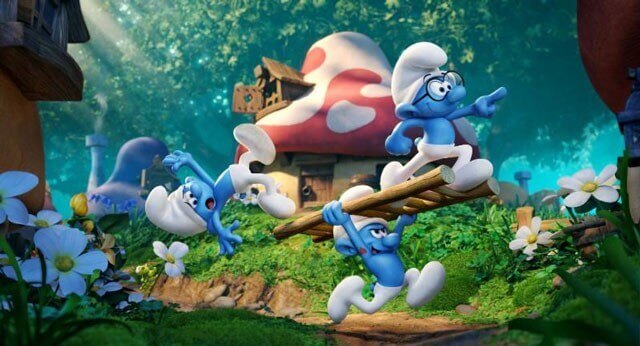 Joe Manganiello's going from playing a hunky werewolf in True Blood and stripping in Magic Mike XXL to something much more family-friendly. Manganiello's joined the voice cast of Sony Pictures Animation's Smurfs: The Lost Village, the newest addition to the Smurfs film franchise. Sony Pictures Animation also announced 30 Rock's Jack McBrayer and Community's Danny Pudi have signed on to lend their voices to the upcoming Smurfs movie based on the characters created by Peyo. Smurfs: The Lost Village opens in theaters on March 31, 2017.
According to the official announcement, Manganiello will voice Hefty, a strong and super-positive Smurf who is a "loyal dynamo struggling with his hero complex." McBrayer is playing Clumsy, a Smurf who's "sweet, awkward and honest-to-a-fault." Clumsy is described as forever trying his best and missing the mark. And Pudi will voice Brainy, a book smart and geek proud Smurf with limited social skills.
The trio join previously announced Smurfs: The Lost Village cast members Demi Lovato as Smurfette, Rainn Wilson as Gargamel, and Mandy Patinkin as Papa Smurf. Kelly Asbury (Gnomeo & Juliet) is directing and Raja Gosnell and Ben Waisbren are executive producing.
The Smurfs: The Lost Village Plot:
It seems to Smurfette that everyone else in the Village has a purpose – Papa Smurf (leading), Baker Smurf (baking), even Grouchy Smurf (grouching) – except for her. So what's the only girl in the village to do? Go in search of hers, of course! When she accidentally crosses paths with a mysterious creature that takes off into the Enchanted Forest, she follows, and sets off into the uncharted and strictly forbidden woods. Joined by her brothers Brainy, Hefty and Clumsy – and with the evil wizard Gargamel shadowing their every step – Team Smurf undertakes a wild journey full of action, danger and discovery, setting them on a course that leads to the biggest mystery in Smurf history!