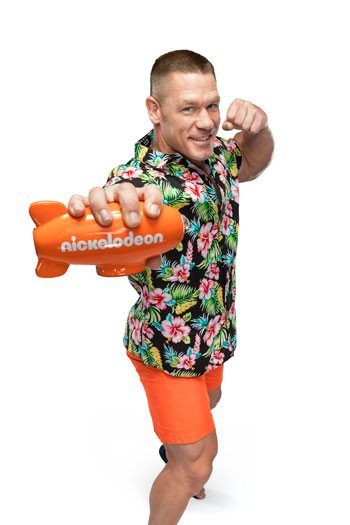 Nickelodeon has tapped WWE superstar John Cena to host the 2017 Kids' Choice Awards. This year's awards show will air live on the East Coast on Saturday, March 11, 2017 at 8pm ET/PT from USC's Galen Center in Los Angeles. The Nickelodeon awards recognize the best in film, television, music, pop culture, and animation as chosen by kids and are best known for dropping green slime on celebrities. Celebrities who've been slimed include Katy Perry, Jack Black, Harrison Ford, Josh Gad, Blake Shelton, Mark Wahlberg, and Sandra Bullock.
The 2017 awards mark Cena's first time hosting the Kids' Choice show. "Nickelodeon's Kids' Choice Awards is the biggest party for kids, and I'm so excited and honored to host this year's show," stated Cena. "I have a lot of big surprises in store so bring on the slime!"
"John Cena's energy and larger-than-life personality will bring the most excitement, comedy and fun to this year's Kids' Choice Awards," said Shelly Sumpter Gillyard, Senior Vice President, Talent and Events for Nickelodeon. "He's a big kid at heart, and we can't wait to give kids around the world a front row seat to this year's show."
The Kids' Choice Awards will be produced by Nickelodeon Productions. Elizabeth Kelly, Michael Dempsey, Shelly Sumpter Gillyard and Jay Schmalholz are executive producing.