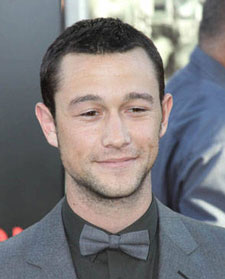 CinemaCon has named Joseph Gordon-Levitt the winner of this year's "CinemaCon Breakthrough Filmmaker of the Year Award". The annual convention of motion picture industry professionals will take place at Caesars Palace in Las Vegas from April 15-18, 2013 and will include an awards ceremony celebrating the work of actors, directors and producers.
CinemaCon's Managing Director Mitch Neuhauser said Gordon-Levitt will receive the award during the CinemaCon Big Screen Achievement Awards on April 18th.
"Having already been embraced by moviegoers and critics alike with his diverse list of acting credits, Joseph Gordon-Levitt is sure to establish himself as one of the most exciting new directors in movies today with the release of his directorial debut
Don Jon's Addiction
," stated Neuhauser. "Since screening at Sundance in January, the film and its writer, director and star have been earning incredible praise across the globe. CinemaCon is excited to honor Joseph Gordon-Levitt with its 2013 'Breakthrough Filmmaker of the Year Award.'"
Gordon-Levitt was recently seen on the screen in
The Dark Knight Rises
,
Looper
, and
Lincoln
.
Details on
Don Jon's Addiction
:
Jon Martello (Joseph Gordon-Levitt), aka "Don Jon" to his friends, is a strong, handsome, good old fashioned guy. He loves his family, his friends, his church and his porn. Between his ability to pull "10s" every weekend and the hours he spends online, Jon has pretty specific ideas about what makes the perfect woman. Barbara Sugarman (Scarlett Johansson) is a bright, beautiful, good old fashioned woman with her own romantic ideas about what makes the perfect man. Expectations collide as Jon and Barbara struggle to see past what they want, and discover what they need in this fresh, funny, and poignant comedy written and directed by Joseph Gordon-Levitt.
Source: CinemaCon
Follow Us On: