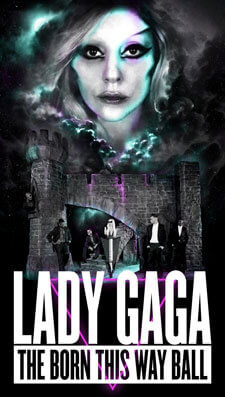 Lady Gaga's just revealed the details of her European leg of the The Born This Way Ball tour in support of her latest album (but have no fear Little Monsters, she'll also be singing songs off of both 2008's The Fame and 2009's The Fame Monster). The Born This Way Ball, which kicks off on April 27th in Seoul, South Korea, has added 21 European cities to the tour. The European leg is set to begin on August 14th in Sofia, Bulgaria.
Rockers The Darkness will support Lady Gaga on the European leg and Germany's dance music DJ and producer ZEDD will be Lady Gaga's special guest for the Asian concerts ending on June 3rd in Jakarta, Indonesia. Lady Gaga also confirmed Lady Starlight will be the special guest DJ for her concerts in Australia, New Zealand, and Europe.
"The Haus of Gaga and I have worked for months conceiving a spectacular stage," said Mother Monster. "The Born This Way Ball is an Electro-Metal Pop-Opera; the tale of the Beginning, the genesis of the Kingdom of Fame. How we were birthed and how we will die celebrating."
Tickets go on sale in select markets on April 13th.
Lady Gaga The Born This Way Ball 2012 European Tour Itinerary:
Aug 14 Sofia, Bulgaria Vasil Levski National Stadium On sale Apr 27
Aug 16 Bucharest, Romania Arena Nationala Stadium On sale Apr 27
Aug 18 Vienna, Austria Wiener Stadhalle On sale Apr 21
Aug 21 Vilnius, Lithuania Vingis Park On sale Apr 30
Aug 23 Riga, Latvia Riga Mezaparks On sale Apr 30
Aug 25 Tallinn, Estonia Tallinn Song Festival Grounds On sale Apr 30
Aug 27 Helsinki, Finland Hartwall Areena On sale Apr 16
Aug 30 Stockholm, Sweden Ericsson Globe On sale Apr 20
Sept 2 Copenhagen, Denmark Parken Stadium On sale Apr 20
Sept 4 Koln, Germany Lanxess Arena On sale Apr 20
Sept 8 London, UK Twickenham Stadium On sale Apr 13
Sept 11 Manchester, UK MEN Arena On sale Apr 13
Sept 15 Dublin, Ireland Aviva Stadium On sale Apr 16
Sept 17 Amsterdam, NL Ziggo Dome On sale Apr 16
Sept 22 Paris, France Stade de France On sale Apr 16
Sept 24 Hannover, Germany TUI Arena On sale Apr 20
Sept 26 Zurich, Switzerland Hallenstadion Zurich On sale Apr 20
Sept 29 Antwerp, Belgium Sportpaleis On sale Apr 13
Oct 2 Milan, Italy Mediolanum Forum On sale Apr 20
Oct 4 Nice, France Stade Charles-Ehrmann On sale Apr 16
Oct 6 Barcelona, Spain Palau Sant Jordi On sale Apr 19
Source: Live Nation Entertainment – April 10, 2012