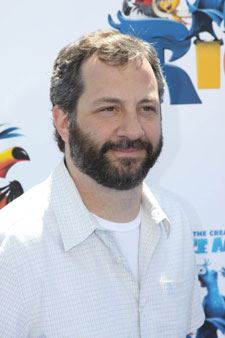 Managing director of CinemaCon Mitch Neuhauser announced writer/producer/director Judd Apatow will be receiving the organization's CinemaCon Award of Excellence in Filmmaking honor on April 26th in Las Vegas. The National Association of Theatre Owners (NATO) will be hosting their annual event from April 23-26 at Caesars Palace, with the convention ending with an awards gala in The Colosseum.
"Judd Apatow has written, directed and/or produced many of this moviegoing generation's most memorable and entertaining comedies," stated Neuhauser. "With his uncanny ability to bring out the ridiculousness of many real-life situations, as well as his gift for recognizing and creating some of the most outrageous and compelling characters ever to appear on the big screen, he is sure to keep entertaining audiences for many years to come. We are thrilled to be able to present Judd with the 'CinemaCon Award of Excellence in Filmmaking.'"
Apatow's next film as a director is Universal Pictures'
This is 40
, the sequel/spin-off of
Knocked Up
.
This is 40
stars Paul Rudd and Mrs. Judd Apatow (Leslie Mann), reprising their
Knocked Up
roles as a married couple with kids.
This is 40
also features Megan Fox, John Lithgow, Iris Apatow, Maude Apatow, Melissa McCarthy, Robert Smigel, Charlene Yi and Albert Brooks.
More on Judd Apatow [Courtesy of CinemaCon]:
Initially aspiring to become a professional comedian, Apatow eventually stopped performing in favor of writing. After writing on a few award shows, cable specials,
The Larry Sanders Show
and
The Ben Stiller Show
(which he co-created), Apatow served as an executive producer on NBC's critically-acclaimed
Freaks and Geeks
. He then made his feature-film debut as a director with 2005's
The 40-Year-Old Virgin
. Co-written by Apatow and the film's star, Steve Carell,
The 40-Year-Old Virgin
opened at No. 1 at the box office.
In 2007, he directed, wrote and produced
Knocked Up
, which grossed more than $200 million internationally. He followed this up by producing the hit comedies
Superbad
,
Forgetting Sarah Marshall
and
Pineapple Express
and writing and directing 2009's
Funny People
. Additional producing credits include
The Cable Guy
,
Anchorman: The Legend of Ron Burgundy
and
Get Him to the Greek
. In 2011, he produced the most successful R-rated female comedy of all time,
Bridesmaids
. Apatow is currently in production on the HBO series Girls, and recently produced
The Five-Year Engagement
, the new comedy from director Nicholas Stoller that will be released on April 27 by Universal.
Source: CinemaCon – April 10, 2012