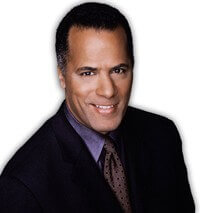 Lester Holt will be replacing Ann Curry on Dateline NBC, with NBC News announcing today Holt's new position as principal anchor of the series which will kick off its 20th season on September 23, 2011. Holt will also continue to report as a correspondent, according to NBC, along with correspondents Chris Hansen, Hoda Kotb, Josh Mankiewicz, Keith Morrison and Dennis Murphy.
NBC News President Steve Capus announced the change, stating, "One of the hardest working men on television, we are so pleased that Lester has added Dateline to his portfolio. Lester joins an impressive lineage of reporters who have graced the anchor desk over the past 20 years and we're really excited to watch as he makes his mark on the award-winning newsmagazine as it continues to tell great stories."
More on Lester Holt [Courtesy of NBC]:
A staple at NBC News, Holt is also the weekend anchor for NBC Nightly News and the co-anchor of the weekend edition of TODAY. In addition, he serves as fill-in anchor and correspondent for NBC Nightly News with Brian Williams and TODAY.
He has reported from the Kuwait/Iraqi border as US forces prepared to launch their invasion of Iraq, the front lines in Lebanon on the war between Israel and Hezbollah, and from London on the terror threat to U.S. bound-airliners from the UK. Holt also traveled to Haiti where he reported on the immediate aftermath and response to the devastating earthquake and he was on the streets of Cairo covering the political and civil unrest in Egypt. More recently, Holt traveled overseas to cover the earthquake and nuclear crisis in Japan, and he reported on violence in Chicago schools and the recession for Dateline.
Before being named co-anchor of the weekend edition of TODAY, he anchored Lester Holt Live, and served as the lead anchor for daytime news and breaking coverage on MSNBC where he reported on the wars in Iraq and Afghanistan and Decision 2000. Holt came to MSNBC from WBBM-TV in Chicago, where he spent 14 years. He has contributed to the CBS News broadcast 48 Hours, earning a 1990 Robert F. Kennedy Journalism award for his work on 48 Hours: No Place Like Home. In 2010, Holt was part of the TODAY anchor team that won the Daytime Emmy Award for Outstanding Morning Program.
Prior to NBC News, Holt worked as a reporter at WCBS-TV in New York City from 1981-82. In 1982 he transferred to sister station KCBS-TV (then KNXT) in Los Angeles as a reporter and weekend anchor and returned to WCBS-TV a year later as a reporter and weekend anchor.
Holt studied government at California State University in Sacramento. He resides in New York City with his wife.
Source: NBC – Sept 19, 2011