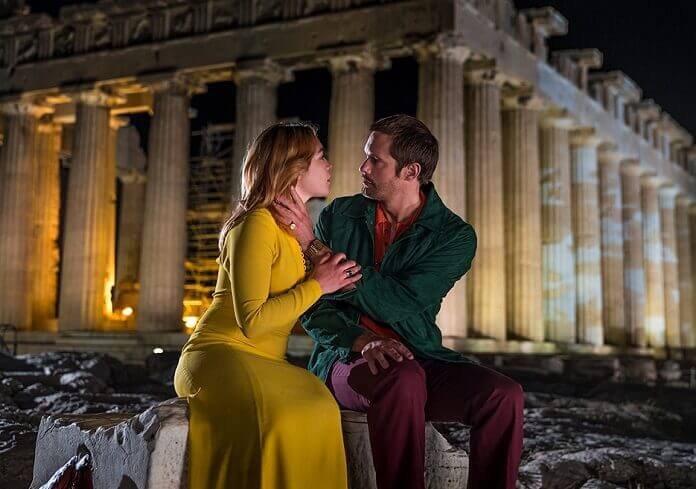 The television adaptation of John le Carré's bestselling novel The Little Drummer Girl will debut on AMC this November. The mini-series is made up of six parts and was adapted for the screen by Michael Lesslie (Assassin's Creed) and Claire Wilson (Partners in Crime). Park Chan-wook (Oldboy, The Handmaiden, Stoker) makes his television directorial debut with the much-anticipated mini-series.
The cast is led by Emmy Award winner Alexander Skarsgård (Big Little Lies) as Becker, two-time Oscar nominee Michael Shannon (The Shape of Water, Nocturnal Animals) as Kurtz, and BAFTA nominated Florence Pugh (Lady Macbeth) as Charlie. Lubna Azabal, Michael Moshonov, Alessandro Piavani, and Kate Sumpter are also featured in multiple episodes.
The Little Drummer Girl is executive produced by Simon Cornwell, Stephen Cornwell, John le Carré, Mona Qureshi, Joe Tsai, Arthur Wang, Wonjo Jeong, and Park Chan-wook. The mini-series is a BBC, AMC and The Ink Factory production, in partnership with 127 Wall.
Park Chan-wook shot the series on the streets of London and Prague as well as at the Acropolis and Temple of Poseidon in Athens.
The Plot: Blurring the fine lines between love and hate; truth and fiction; and right and wrong; The Little Drummer Girl weaves a suspenseful and explosive story of espionage and high-stakes international intrigue. Set in the late 1970s, the pulsating thriller follows Charlie (Pugh), a fiery actress and idealist whose resolve is tested after she meets the mysterious Becker (Skarsgård,) while on holiday in Greece.
It quickly becomes apparent that his intentions are not what they seem, and her encounter with him entangles her in a complex plot devised by the spy mastermind Kurtz (Shannon). Charlie takes on the role of a lifetime as a double agent while remaining uncertain of her own loyalties.