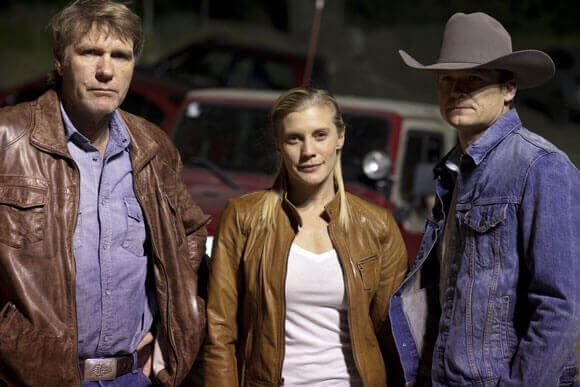 Netflix revived Longmire for a fourth season following its cancellation on A&E and now we know when we'll get to see the new season. The streaming network confirmed Longmire starring Robert Taylor, Bailey Chase, Katee Sackhoff, and Lou Diamond Phillips will arrive on September 10, 2015. The 10 new episodes will also feature Cassidy Freeman and Adam Bartley, with Gerald McRaney and Ally Walker guest starring.
The Plot: "Based on the novels by bestselling author Craig Johnson, the fourth season premiere of Longmire picks up moments after season three's exciting finale. Walt Longmire (Taylor), having found out who was behind the murder of his wife, succumbs to his darker impulses and takes off in pursuit of the killer with murder on his mind. Meanwhile, Branch Connally (Chase), the deputy who Walt fired for erratic, violent behavior, believes he has already figured out who the real culprit is. But during his confrontation with this suspected killer, a gun goes off. Now the audience will finally learn what happened, and whether Walt can be stopped before he makes a fatal choice."
Netflix also announced Aziz Ansari's Master of None will be available to subscribers beginning November 6, 2015. Ansari co-created the series with Alan Yang and stars in the comedy alongside H. Jon Benjamin, Eric Wareheim, Lena Waithe, Noel Wells and Kelvin Yu.
The Plot: "Based on the comedic viewpoints of Aziz Ansari, the show follows the personal and professional lives of Dev (Ansari), a 30-year-old actor in New York who has trouble deciding what he wants to eat, much less the pathway for the rest of his life. Ambitious, funny, cinematic, and both sweeping in scope and intensely personal, Dev's story takes him through subjects as diverse as the plight of the elderly, the immigrant experience, and how to find the most delicious pasta for dinner."
In other news, Netflix hasn't yet given a premiere date to With Bob and David, the four episode comedy starring Better Call Saul's Bob Odenkirk and David Cross, or to Marvel's Jessica Jones starring Krysten Ritter and David Tennant. However, we can expect to see those two shows along with Sofia Coppola's A Very Murray Christmas starring Bill Murray sometime in the fourth quarter of 2015.
Follow Us On: