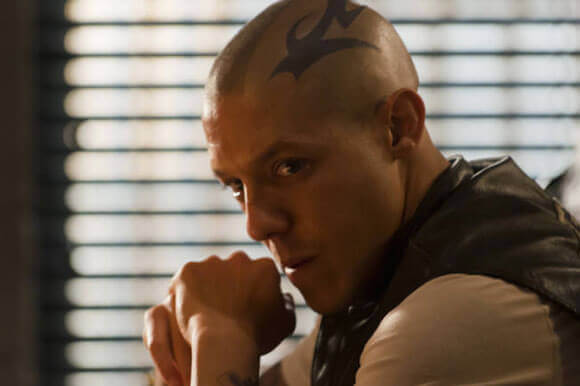 The cast of Marvel's Luke Cage has confirmed three additions to the roster. Sons of Anarchy's Theo Rossi, Frank Whaley, and Simone Missick have been (finally) officially announced as part of the Luke Cage cast. Netflix is eyeing a 2016 premiere of the Marvel comics-inspired series starring Mike Colter in the title role.
Theo Rossi is playing Shades, a ruthless criminal with ties to Cage's mysterious past. "Theo Rossi is a swiss army knife–no matter what you bring to him, he has a tool for it–and he's playfully unpredictable," said series Executive Producer and Showrunner Cheo Hodari Coker. "His Shades will be someone you hate to love."
Simone Missick will play Misty Knight, a Harlem police detective who is determined to learn the truth about Luke Cage. "We know fans have waited years to see Misty Knight brought to life, so we had to find the right actress," stated executive producer/Marvel's Head of TV Jeph Loeb. "Simone blew us away with her performance as the strong-willed cop on a mission."
Frank Whaley is confirmed as Rafael Scarfe, a hard-nosed NYPD detective who partners with Misty Knight in their Luke Cage investigation. "Frank Whaley has a wiry intensity that he's imbued in Det. Rafael Scarfe," said Coker. "He's a great counterpart to Misty, and a wonderful actor."
In addition, Rosario Dawson will be reprising her Daredevil role as Claire Temple. "We are thrilled to have Rosario in another one of our television series," said Loeb. "Her performance as Claire Temple in Marvel's Daredevil was astonishing and we can't wait to see her shine in Marvel's Luke Cage."
The Plot:
After a sabotaged experiment leaves him with super strength and unbreakable skin, Luke Cage becomes a fugitive trying to rebuild his life in modern day Harlem, New York City. But he is soon pulled out of the shadows and must fight a battle for the heart of his city – forcing him to confront a past he had tried to bury.
Follow Us On: