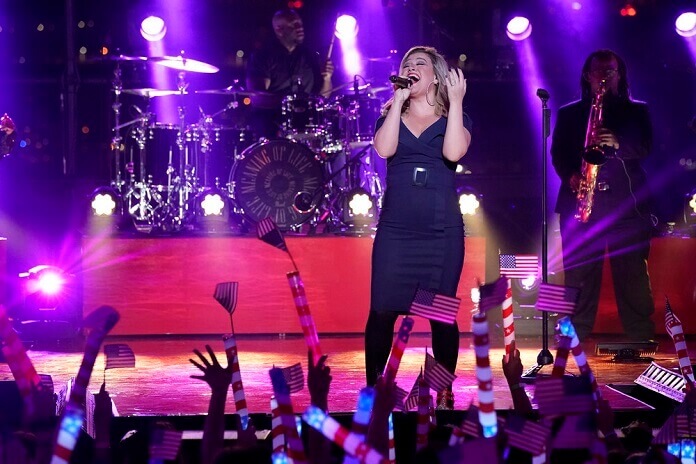 The Voice coaches Blake Shelton and Kelly Clarkson are confirmed to perform as part of the annual Macy's 4th of July Fireworks Spectacular. The two-hour 2018 holiday special will air live on NBC at 8pm ET (taped delayed on the West Coast). NBC will also air a special one-hour version of Macy's 4th of July Fireworks Spectacular at 10pm ET/PT.
The special music-filled celebration of Independence Day will also feature performances by Ricky Martin (recently seen in The Assassination of Gianni Versace) and Keith Urban (American Idol). Additional artists will be announced closer to the holiday.
Emmy Award nominees Matt Iseman and Akbar Gbajabiamila from American Ninja Warrior will once again handle hosting duties. This year's special will be produced by Brad Lachman Productions, with Lachman on board as an executive producer. Bill Bracken is serving as a co-executive producer of the Universal Television production.
Details on the 4th of July Special: "The 42nd annual Macy's 4th of July firework display over the East River will feature an incredible pyrotechnic spectacle, igniting the skyline with more than 75,000 shells, making it Macy's largest firework display since the Millennial Celebration in 2000. The incredible show will be accompanied by the West Point Band and Glee Club and their beautiful renditions of patriotic classics such as 'Stars & Stripes Forever' and 'The Star Spangled Banner.'
In celebration of the 100th anniversary of 'God Bless America,' the special will also feature an all-new recording of the patriotic classic by Kelly Clarkson with the West Point Band and Glee Club as the backdrop to the show's famed Golden Mile, an array of golden-hued effects for a mile across the river."