NBC is delivering three new comedies as part of their upcoming fall 2013 schedule –
Welcome to the Family
,
Sean Saves the World
, and
The Michael J. Fox Show
– plus three new dramatic shows –
The Blacklist
,
Ironside
, and
Dracula
. The network's also hoping audiences will tune in for midseason newbies
The Family Guide
,
About A Boy
,
Believe
,
Crisis
and
Crossbones
, all debuting later on in the upcoming television season. Yet to be scheduled but also in the works are
Chicago PD
,
The Night Shift
, and
Undateable
.
The new shows include a return to sitcoms for Michael J Fox, a dramatic series from J.J. Abrams, and a thriller with James Spader. Returning series include
Parenthood
,
Community
,
Parks and Recreation
,
Chicago Fire
,
Revolution
,
Grimm
, and
Law & Order: SVU
.
"The overriding strategy this year was to develop enough strong comedies and dramas to take advantage of the promotional heft of the Winter Olympics and devise two schedules for the upcoming season: one for fall and a slightly different one for midseason. I'm pleased to say that our development groups — headed by Jennifer Salke (scripted) and Paul Telegdy (alternative/reality) — really delivered," stated Robert Greenblatt, Chairman, NBC Entertainment. "This is the most robust and highest-testing slate of new shows we have had in years."
NBC FALL 2013-14 SCHEDULE
(New programs in UPPER CASE; all times ET)
MONDAY
8-10 p.m. – The Voice
10-11 p.m. – THE BLACKLIST

TUESDAY
8-9 p.m. – The Biggest Loser (New Day and Time)
9-10 p.m. – The Voice (New time)
10-11 p.m. – Chicago Fire (New Day and Time)

WEDNESDAY
8-9 p.m. – Revolution (New Day and Time)
9-10 p.m. – Law & Order: SVU
10-11 p.m. – IRONSIDE

THURSDAY
8-8:30 p.m. – Parks and Recreation (New time)
8:30-9 p.m. – WELCOME TO THE FAMILY
9-9:30 p.m. – SEAN SAVES THE WORLD
9:30-10 p.m. – THE MICHAEL J. FOX SHOW
10-11 p.m. – Parenthood (New Day and Time)

FRIDAY
8-9 p.m. – Dateline NBC
9-10 p.m. – Grimm
10-11 p.m. – DRACULA

SATURDAY
Encore programming

SUNDAY
7:00-8:15 p.m. – Football Night in America
8:15-11:30 p.m. – NBC Sunday Night Football

NBC MIDSEASON 2013-14 SCHEDULE
(New programs in UPPER CASE; all times ET)

MONDAY
8-10 p.m. – The Voice
10-11 p.m. – THE BLACKLIST

TUESDAY
8-9 p.m. – The Voice
9-9:30 p.m. – ABOUT A BOY
9:30-10 p.m. – THE FAMILY GUIDE
10-11 p.m. – Chicago Fire

WEDNESDAY
8-9 p.m. – Revolution
9-10 p.m. – Law & Order: SVU
10-11 p.m. – IRONSIDE

THURSDAY
8-8:30 p.m. – Parks and Recreation
8:30-9 p.m. – WELCOME TO THE FAMILY
9-9:30 p.m. – SEAN SAVES THE WORLD
9:30-10 p.m. – THE MICHAEL J. FOX SHOW
10-11 p.m. – Parenthood

FRIDAY
8-9 p.m. – Dateline NBC
9-10 p.m. – Grimm
10-11 p.m. – CROSSBONES

SATURDAY
8-10 p.m. – Encore and specials programming
10-11 p.m. – Saturday Night Live (Encore)

SUNDAY
7-8 p.m. – Dateline NBC
8-9 p.m. – AMERICAN DREAM BUILDERS
9-10 p.m. – BELIEVE
10-11 p.m. – CRISIS
2013-14 NEW SERIES DESCRIPTIONS
ABOUT A BOY
Based on the best-selling Nick Hornby novel, writer Jason Katims and director Jon Favreau present a different kind of coming-of-age story. Will Freeman (David Walton) lives a charmed existence as the ultimate man-child. After writing a hit song, he was granted a life of free time, free love and freedom from financial woes. He's single, unemployed and loving it. So imagine his surprise when Fiona (Minnie Driver), a needy single mom and her oddly charming 11-year-old son, Marcus (Benjamin Stockham), move in next door and disrupt his perfect world. When Marcus begins dropping by his home unannounced, Will's not so sure about being a kid's new best friend, until, of course, Will discovers that women find single dads irresistible. That changes everything and a deal is struck: Marcus will pretend to be Will's son and, in return, Marcus is allowed to chill at Will's house. Before he realizes it, Will starts to enjoy the visits and even finds himself looking out for the kid. In fact, this newfound friendship may very well teach him a thing or two that he never imagined possible — about himself and caring for others.
THE FAMILY GUIDE
It's not every family that's brought closer together by divorce, but then again, the Fishers aren't exactly typical. Take Mel Fisher (J.K. Simmons), for example. Whether it's chopping down trees, showing his daughter how to drive or playing football with his son, he's never let the fact that he's blind slow him down. Then there's Joyce Fisher (Parker Posey), possibly the only mom in Pasadena to smoke a pipe. For her, divorce is like a second coming of age, a chance to be the teen she never was. Just ask '80s-obsessed teenage daughter Katie (Ava Deluca-Verley), whose clothes Joyce is always borrowing. At the center of all this is Henry (Eli Baker), the Fisher's 11-year old son. Having always been his dad's eyes, ears and wingman, Henry's less than thrilled when Mel shows up with Elvis, a guide dog… which is also how Henry learns about the pending divorce. While reluctant to the changes this dog would bring, it's through the adult Henry's voice-over (Jason Bateman) that we find out his parent's split would "allow all of us to finally discover who we needed to be."
THE MICHAEL J. FOX SHOW
Look who's making the news again. One of New York's most beloved news anchors, Mike Henry (Michael J. Fox), put his career on hold to spend more time with his family and focus on his health after he was diagnosed with Parkinson's disease. But five years later, with the kids busy growing up and Mike growing restless, it just might be time for him to get back to work. Having never wanted Mike to leave in the first place, his old boss Harris Green (Wendell Pierce) jumped at the chance to get him back on TV. The trick, as it's always been, was to make Mike think it was his idea. Now the plan is in motion and Mike will be back to juggling home, family, and career — just like the old days, but only better.
SEAN SAVES THE WORLD
Sean (Sean P. Hayes) is a divorced gay dad who juggles a lot — his successful but demanding career, offbeat employees, pushy mom Lorna (Linda Lavin) and weekends with his teenage daughter, Ellie (Sami Isler). So when she moves in full-time, it's a whole new world. Never one to do anything halfway, Sean's intent on being the best dad ever, so he loads up on parenting how-to books and plans Pinterest-worthy family dinners. But it seems his company's new owner has decided Sean and his team should work longer hours, putting a damper on his homemaking plans and throwing a kink in Sean's perfectly constructed work/life balance. Ellie sees this development as a plus. She loves her dad, but he's clearly going overboard. From keeping his boss happy, employees motivated and enduring his mother's tactless "advice" to raising a smart, grounded and healthy kid, it's going to be a growing experience, to say the least. But if anyone can handle it all, it's Sean. Thomas Lennon, Lindsay Sloane and Echo Kellum also star.
UNDATEABLE
When confident slacker Danny Beeman (Chris D'Elia) takes Justin (comedian Brent Morin) on as a roommate, Danny unwittingly inherits Justin's group of romantically challenged friends. Seeing himself as the ultimate player, Danny decides to teach the crew (who he dubs "The Undateables") everything he knows about "the game of love." For their first lesson, Danny takes the guys to an event hosted by his sister, Leslie (Bianca Kajlich), who is a single mom with dating difficulties of her own. At first, Danny's advice seems to pay off big-time: The shy guy talks to a girl, the no-filter dude learns it's never OK to ask a woman when she's due, and his nebbish roommate, Justin, goes home with a mystery woman. It's not until the next day that they figure out it was Leslie. Here's a refreshing comedy about the "do's," "don'ts" and "duhs" of dating.
WELCOME TO THE FAMILY
Parents Dan Yoder (Mike O'Malley) and wife Karina (Mary McCormack) find out on the day their daughter Molly (Ella Rae Peck) is graduating from high school with an acceptance to college, she announces she pregnant. Across town in East L.A., Junior Hernandez (Joseph Haro), in the middle of his high school valedictorian speech, gets a text from girlfriend Molly that he's going to be a daddy. Expectedly, Junior's parents Miguel (Ricardo Chavira) and Lisette (Justina Machado) are also upset, as they now have Caucasians in the family. What follows is a crash course in culture blending as Molly and Junior decide they want to get married and, in doing so, bring together two very different families. The dads have the most difficult time reconciling while the moms take a softer approach to get to know one another. When the parents fully realize that their kids are serious about making a life together, the adults exhale and begin to come to terms with this new blended family and start to understand it will take, humor, love and tolerance to make it all work.
BELIEVE
Levitation, telekinesis, the ability to control nature and even predict the future… Since she was 2 years old, Bo (Johnny Sequoyah) has had gifts she could neither fully understand, nor control. Raised by a small group known as the "True Believers," the orphaned girl has been safeguarded from harmful outsiders who would use her forces for personal gain. But now that she is 10, her powers have become stronger and the threat has grown more dangerous. With her life and future now in jeopardy, the "Believers" turn to the only person they see fit to be her full-time protector. That is, once they break him out of jail. Tate (Jake McLaughlin), a wrongfully imprisoned death row inmate who's lost his will, is initially reluctant until he witnesses one of her extraordinary abilities. Bo sees people for who they truly are… and who they may become. Tate and Bo begin their journey, one in which trust must be earned. Traveling from city to city, every place they stop and everyone they meet will be changed forever. But they'll have to keep going to stay one step ahead of the sinister forces after Bo's power… because it will take a miracle to keep them safe forever. "Believe" also stars Delroy Lindo and Kyle MacLachlan.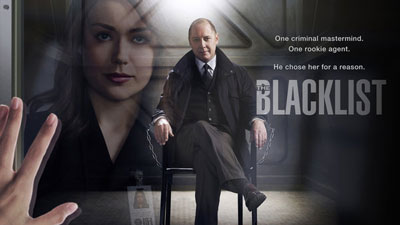 THE BLACKLIST
For decades, ex-government agent Raymond "Red" Reddington (James Spader) has been one of the FBI's Most Wanted fugitives. Brokering shadowy deals for criminals across the globe, Red was known by many as "The Concierge of Crime." Now, he's mysteriously surrendered to the FBI with an explosive offer: He will help catch a long-thought-dead terrorist, Ranko Zamani, under the condition that he speaks only to Elizabeth "Liz" Keen (Megan Boone), an FBI profiler fresh out of Quantico. For Liz, it's going to be one hell of a first day on the job. What follows is a twisting series of events as the race to stop a terrorist begins. What are Red's true intentions? Why has he chosen Liz, a woman with whom he seemingly has no connection? Does Liz have secrets of her own? Zamani is only the first of many on a list that Red has compiled over the years: a "blacklist" of politicians, mobsters, spies and international terrorists. He will help catch them all… with the caveat that Liz continues to work as his partner. Red will teach Liz to think like a criminal and "see the bigger picture"… whether she wants to or not. The Blacklist also stars are Diego Klattenhoff, Harry Lennix, Ryan Eggold and Ilfenesh Hadera.

CHICAGO PD
District 21 of the Chicago Police Department is made up of two distinctly different groups: The uniformed cops who patrol the beat and deal with street crimes, and the intelligence unit, the team that combats the city's major offenses, such as organized crime, drug trafficking and high-profile murders. Leading the intelligence team is Sgt. Hank Voight (Jason Beghe), a man not against skirting the law in the pursuit of justice. Demanding and tough, only those who can take the heat survive under Voight's command. Take Det. Antonio Dawson (Jon Seda), for example. Despite a troubled history with his boss, Dawson has ambitions of running the unit. If that means facing off against Voight every day, he'll persevere. From the street cops with dreams of moving up to the elite crew who are already in, "life on the job" is a daily challenge.
CRISIS
It's field trip day for the students of Ballard High School, a place that educates the children of Washington, D.C.'s elite, top-of-their-industry CEOs, international diplomats, political power players and even the president's son. But when their bus is ambushed on a secluded rural road, the teenagers and their chaperones are taken, igniting a national crisis. Now with some of the country's most powerful parents at the mercy of one vengeful mastermind, the question arises: How far would you go and what would you become to ensure your child's safe return? With so many parents and dignitaries put into play with nowhere to turn and no one to trust, this unthinkable scenario grows from the select families at risk to an entire nation at stake.
From writer/producer Rand Ravich and starring Dermot Mulroney, Gillian Anderson, Lance Gross and Rachael Taylor,
Crisis
is an emotionally charged action thriller.
CROSSBONES
It's 1715 on the Bahamian island of New Providence, the first functioning democracy in the Americas, where the diabolical pirate Edward Teach, aka Blackbeard (John Malkovich) reigns over a rogue nation of thieves, outlaws and miscreant sailors. Part shantytown, part marauder's paradise, this is a place like no other on earth, and a mounting threat to international commerce. To gain control of this fearsome society, Tom Lowe, a highly skilled undercover assassin, is sent to the pirates' haven to take down the brilliant and charismatic Blackbeard. But the closer Lowe gets, the more he finds that his quest is not so simple. Lowe can't help but admire the political ideals of Blackbeard, whose thirst for knowledge knows no bounds. But Lowe is not the only danger to Blackbeard's rule. He is a man with many villainous rivals and one great weakness, a passionately driven woman whom he cannot deny.
DRACULA
Golden Globe winner Jonathan Rhys Meyers stars in this provocative new drama as one of the world's most iconic characters. It's the late 19th century and the mysterious Dracula (Rhys Meyers) has arrived in London, posing as an American entrepreneur who wants to bring modern science to Victorian society. He's especially interested in the new technology of electricity, which promises to brighten the night — useful for someone who avoids the sun. But he has another reason for his travels: He hopes to take revenge on those who cursed him with immortality centuries earlier. Everything seems to be going according to plan… until he becomes infatuated with a woman who appears to be a reincarnation of his dead wife. Victoria Smurfit, Thomas Kretschmann, Jessica De Gouw, Oliver Jackson-Cohen, Nonso Anozie and Katie McGrath also star.
IRONSIDE
In the gritty world of the NYPD, no one's tougher than Det. Robert Ironside (Blair Underwood). He's a fearless cop who won't stop until the guilty are brought to justice. He and his trusted, handpicked team of specialists — Virgil (Pablo Schreiber), Holly (Spencer Grammer) and Teddy (Neal Bledsoe), as well as his former partner Gary (Brent Sexton) and boss, Det. Ed Rollins (Kenneth Choi) — will do whatever it takes to solve New York's most difficult and notorious crimes. As a detective, Ironside's instincts are second to none, and those around him have to stay on their toes if they want to keep up because when his spine was shattered by a bullet two years ago, Ironside swore he'd never let a wheelchair slow him down.
THE NIGHT SHIFT
Welcome to the night shift, where every day is a fight between the heroic efforts of saving lives and the hard truths of running a hospital. At San Antonio Memorial, the men and women who work the wee hours are a special breed, particularly adrenaline junkie T.C. Callahan (Eoin Macken). After a grueling tour of duty in the Middle East, T.C. is about to learn that his toughest battles will be fought right at home. He and his irreverent team of late-night docs, including Topher (Ken Leung) and Drew (Brendan Fehr), know how to let off steam with the casual prank or two, but when lives are at stake they are all business. Unfortunately, the night shift is now under new management and boss Michael Ragosa (Freddy Rodriguez) is more interested in cutting costs than helping people. But T.C. has never met a rule he couldn't break, or a person he won't stand up to. And it's clear that not even his ex-girlfriend (Jill Flint) who is a doctor and now Ragosa's second in charge, has a chance at keeping him in line. If Ragosa wants a war, he'll get one.
THE MILLION SECOND QUIZ
The Million Second Quiz
is a state-of-the-art, electrifying new live competition where contestants test the limits of their knowledge, endurance and will to win as they battle each other in intense bouts of trivia for 12 consecutive days and nights. Live from a gigantic hourglass shaped structure in the heart of Manhattan, this setting will also serve as the living quarters of the reigning champions – the four players who have remained in the game the longest. The show will be the first fully convergent television experience, where viewers will be able to play along at home in real time and sync to the live primetime broadcast. When the million seconds draw to a close, the champions will battle it out and the ultimate winner could claim an unprecedented cash prize of up to $10 million.
FOOD FIGHTERS
The table is set for the ultimate culinary clash in this one part cooking competition, one part game show. Host Adam Richman will give homegrown amateur cooks the chance to test their skills against professional chefs. Every down-home cook has that one signature dish or secret family recipe that always gains favor with friends and family. Now, imagine going head to head in the kitchen against five professional chefs, who try to cook your specialty dish even better than you in the hopes of winning over a dinner party made up of the American public. With each savored victory, the cash prize gets bigger and bigger as the home cooks rise to every challenge and outcook the professional chefs. Think you've got what it takes to serve up the competition?
AMERICAN DREAM BUILDERS
America's top designers, builders, architects and landscapers go head-to-head each week, putting their talents to the test on extreme home renovations. They'll tackle spaces that are architecturally diverse, resulting in epic transformations with impeccable design. These incredible transformations will be judged by host Nate Berkus and a panel of experts to determine which team achieved the best results. The losing team will then be forced to send one team member home. In the live finale, the two remaining competitors will each design and renovate a home on their own, bringing their unique visions to life. America will then vote and crown one contestant the winner. Finally, the two spectacular homes will be given away to two lucky viewers!
Source: NBC
Follow Us On: