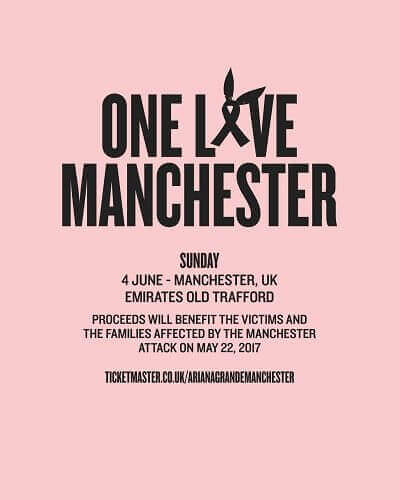 Ariana Grande's "One Love Manchester" benefit concert will air live on Disney/ABC Television Group's Freeform on Sunday, June 4, 2017 at 2pm ET (taped delayed on the West Coast). ABC will air a one-hour highlight special that evening following the NBA Finals. The "One Love Manchester" fundraising concert will be headlined by Ariana Grande and will include performances by Justin Bieber, Coldplay, Katy Perry, Miley Cyrus, Pharrell Williams, Take That, Niall Horan, Little Mix, Robbie Williams, and Black Eyed Peas.
"This Sunday, when Ariana Grande and her friends return to the stage, the world will stand united with families in Manchester and across the United Kingdom," stated Ben Sherwood, president, Disney|ABC Television Group and co-chairman, Disney Media Networks. "ABC and Freeform look forward to sharing the music community's message of love, hope and resilience."
The concert set to take place at the Emirates Old Trafford Cricket Grounds in Manchester, England. Free tickets were distributed to Ariana Grande fans who attended her concert in Manchester, with additional tickets sold to benefit the "We Love Manchester Emergency Fund" established by the Manchester City Council and the British Red Cross. To donate, visit www.redcross.org.uk/manchester.
"Music is meant to heal us, to bring us together, to make us happy. So that is what it will continue to do for us. We will continue to honour the ones we lost, their loved ones, my fans and all affected by this tragedy," said Grande.
"This benefit concert is a gesture of solidarity by Ariana Grande and the many other stars who have pledged their involvement. It will help raise funds to support the survivors and the families who tragically lost someone last week. This event is an opportunity for people to come together and celebrate things that unite us – music, humanity and the will to do something to help others," stated Mike Adamson, chief executive of British Red Cross.