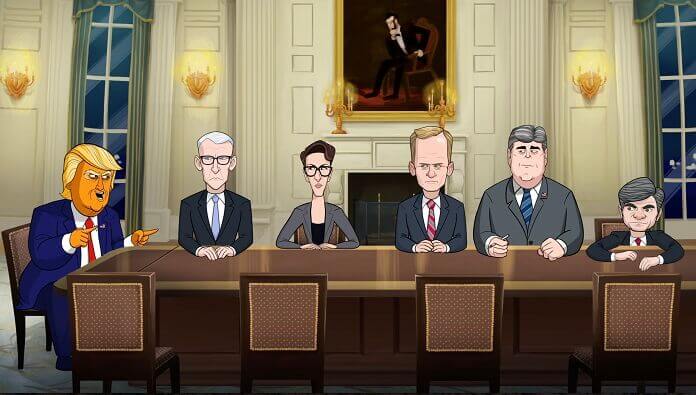 Showtime wants more of Our Cartoon President, the animated comedy series set in the White House and featuring animated versions of the Trump family. The half-hour comedy has earned seven additional episodes which will air during the summer of 2018. Our Cartoon President's initial series order was set to end its 10 episode run on Sunday, April 8, 2018 at 8pm ET/PT. The new episodes were announced by Showtime on March 8, 2018.
Season one of Our Cartoon President has been averaging 2 million viewers per episode. The series premiere which aired on Sunday, February 11th brought in 2.3 million viewers, according to Showtime.
The half-hour animated comedy is executive produced by Emmy Award winner Stephen Colbert, Late Show executive producer Chris Licht, and R.J. Fried. Fried (Problematic with Moshe Kasher) serves as showrunner. Tim Luecke is the show's lead animator and co-executive produces. Luecke's Cartoon Trump and Cartoon Hillary premiered on Colbert's The Late Show and inspired the half-hour series.
The voice cast includes Jeff Bergman as Donald Trump; Cody Lindquist as Melania Trump; Emily Lynne as Eric Trump, Ivanka Trump, and Karen Pence; John Viener as Mike Pence; and Gabriel Gundacker as Donald Trump Jr, Stephen Miller, and Brian Kilmeade. Griffin Newman voices Jared Kushner, Molly Gordon is Sarah Huckabee Sanders, and James Adomian is Ted Cruz and Sean Hannity.
Our Cartoon President Plot: Our Cartoon President follows the tru-ish misadventures of the 45th President of the United States, Donald J. Trump, and his merry band of advisors and family members. The first season has already introduced audiences to Trump's attempts at "winning" the State of the Union address, comforting disaster victims and rolling back President Obama's accomplishments, as well as his co-dependent relationship with the media.