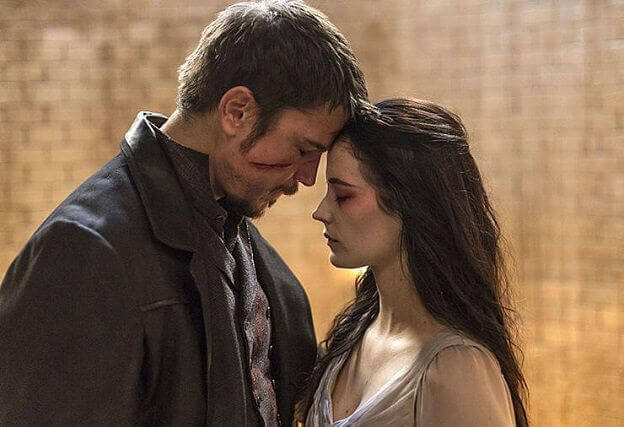 Not only did the third season of Showtime's Penny Dreadful feature the end of a main character, it also signaled the end of the series. Penny Dreadful's third season was its last, with the show tying up all of the key storylines before finishing up with a screen reading "The End." Series creator, writer and executive producer John Logan says completing the story he set out to tell over the course of three seasons was what he always had planned. And, he knew it had to end with Vanessa (played by Eva Green) finally attaining the peace that she longed for.
"I created Penny Dreadful to tell the story of a woman grappling with her faith, and with the demons inside her. For me the character of Vanessa Ives is the heart of this series," said Logan. "From the beginning, I imagined her story would unfold over a three-season arc, ending with Vanessa finally – and triumphantly – finding peace as she returns to her faith. To have had fans that have embraced us so passionately has been one of the most gratifying experiences of my career. This has been a very personal project for me and I will be forever grateful to have worked with the incredible cast led by Eva, Josh [Hartnett] and Tim [Dalton], our amazing Irish crew, and with our wonderful partners at SHOWTIME and Sky."
"John Logan deftly created a truly beautiful, brilliantly-written, epic drama series that has drawn a passionate fanbase to our network," said David Nevins, President and CEO, Showtime Networks Inc. "After three fulfilling seasons, John has told the story he set out to tell and brought the series to a close in an incredibly poetic way. It has been an honor to work with him and this amazingly talented cast, and we're thrilled that we can continue to work with John as he transitions to write and produce his next project for us, Just Kids, alongside Patti Smith. Together with our partners at Sky, we celebrate John's vision and the thrilling finale of Penny Dreadful."
The cast of the supernatural thriller also included Simon Russell Beale, Reeve Carney, Harry Treadaway, Patti LuPone, Rory Kinnear, Billie Piper, and Wes Studi.


The Plot: In Penny Dreadful, some of literature's most famous characters – including Dr. Frankenstein, Dorian Gray and iconic figures from the novel Dracula, all brilliantly reimagined in a whole new light — came together in Victorian London.