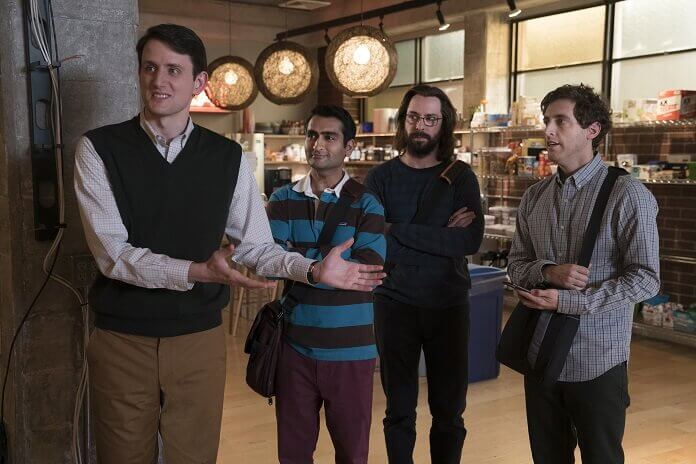 HBO's critically acclaimed half-hour comedy series, Silicon Valley, finishes up season five with two new episodes in May 2018. Season five, which premiered on March 25, 2018, consists of eight episodes and concludes on May 13th.
Created by Mike Judge, John Altschuler and Dave Krinsky, Silicon Valley stars Thomas Middleditch, Kumail Nanjiani, Martin Starr, Jimmy O'Yang, Matt Ross, and Zach Woods. Mike Judge, Alec Berg, Clay Tarver, Michael Rotenberg, Tom Lassally, Jim Kleverweis, and Jamie Babbit are the executive producers.
The Season 5 Plot: The future is now. Pied Piper finally has enough funding for proper offices and new employees, and to bring its peer-to-peer internet to the world – but leveling up introduces a whole new class of obstacles. While Richard struggles to lead a larger team and play with the big dogs, the rest of the team adjusts to new staff, new digs and new anxieties. Meanwhile, Hooli rival Gavin Belson has returned to power, but finds the threat of Pied Piper, and its boldness, hard to shake.
The Pied Piper guys are closer to real fame and fortune than ever before, as their new decentralized internet "PiperNet" approaches its debut. But more money brings more problems. As Richard struggles with the responsibilities of being the CEO of a rapidly growing company, along with pressures from investors Monica and Laurie, Dinesh and Gilfoyle adjust to a new team, Jared works his hardest to hold everything together, Big Head continues to stumble his way into good fortune and Jian-Yang proves there's nothing he won't do to make some fast cash. Meanwhile, at Hooli, reinstated CEO Gavin's desire to stay relevant threatens to consume him as he seeks to destroy the competition.
Silicon Valley May 2018 Episodes:
Episode #45 (season 5, episode 7): "Initial Coin Offering"
Debut date: SUNDAY, MAY 6 (10:00-10:30 p.m. ET/PT)
As the Pied Piper guys prepare to close on their Series B funding, Richard (Thomas Middleditch) receives unsettling news. Gilfoyle (Martin Starr) suggests a risky proposition and Monica (Amanda Crew) gets blunt with Richard. Dinesh (Kumail Nanjiani) goes to great lengths to compete with a coworker, while Jared (Zach Woods) keeps close watch on Richard's new assistant. In search of a better deal, Gavin (Matt Ross) tries to charm small-town America.
Written by Clay Tarver; directed by Mike Judge.
Episode #46 (season 5, episode 8): "Fifty-One Percent" (season finale)
Debut date: SUNDAY, MAY 13 (10:15-10:45 p.m.)
The launch of PiperNet finds Monica (Amanda Crew) suspicious of an early success, and the team must race against the clock as their future is threatened. Realizing he's made more enemies than friends, Richard (Thomas Middleditch) makes a surprising move.
Written by Alec Berg; directed by Alec Berg.