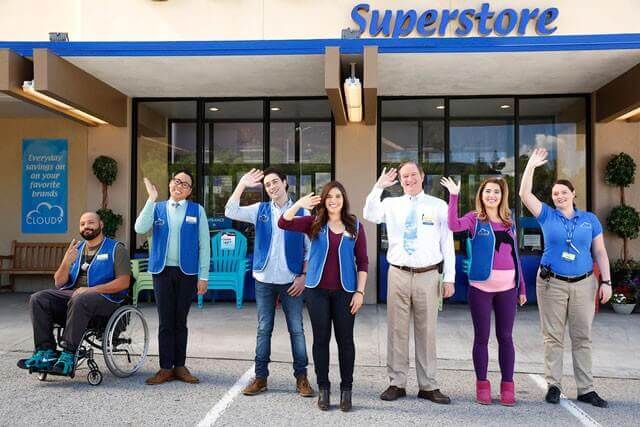 The NBC half-hour comedy series Superstore has been renewed for a second season as just announced by NBC Entertainment President Jennifer Salke. America Ferrera leads the cast of the ensemble comedy created and written by Justin Spitzer, and the show's caught on with viewers, averaging 6.9 million viewers for season one. Superstore is NBC's highest rated first-year comedy show of the past two years which should have made renewing the series an easy decision.
Superstore's cast also includes Ben Feldman, Colton Dunn, Nichole Bloom, Nico Santos, Mark McKinney, and Lauren Ash. Spitzer, director Ruben Fleischer, David Bernad, Gabe Miller, and Jonathan Green are the executive producers. Season one is airing on Monday nights at 8pm ET/PT.
"We're thrilled to renew a show that's incredibly funny and relatable, full of great characters brought to life by this incredible cast, writers and producers," stated Salke. "After such a successful first season, we look forward to seeing more of the wonderful America Ferrera, Ben Feldman and the rest of this hilarious cast in season two."
The Plot: Superstore centers around Amy (America Ferrera), the megastore's most stalwart employee as well as the glue holding the place together, and newly hired Jonah (Ben Feldman), a naive dreamer determined to prove work doesn't have to be boring. Their fellow associates include the sardonic Garrett (Colton Dunn), the ambitious Mateo (Nico Santos) and the sweet pregnant teenager, Cheyenne (Nichole Bloom). Overseeing them all are Glenn (Mark McKinney), the store's affable, clueless store manager, and Dina (Lauren Ash), the aggressive assistant manager who lives by a very specific code – namely the store's employee handbook. From the bright-eyed newbies and the seen-it-all veterans to the clueless summer hires and the in-it-for-life managers, together they hilariously tackle the day-to-day grind of rabid bargain hunters, riot-causing sales and nap-worthy training sessions.
Us right now! #Superstore pic.twitter.com/vRAXw9EkcP

— Superstore (@NBCSuperstore) February 23, 2016