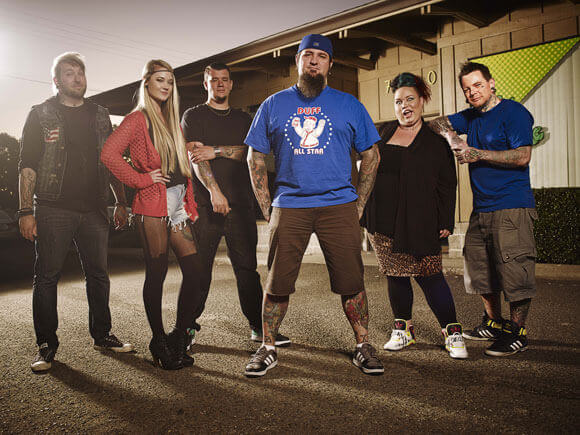 A&E's debuting a new tattoo series titled
Epic Ink
on August 20, 2014 at 10:30pm ET/PT. The 10 episode first season centers around a Springfield, Oregon tattoo shop called Area 51 Tattoo that specializes in hyper-realistic tattoos. The tattoo artists working at Area 51 Tattoo are into pop culture and sci-fi art, and Area 51 clients travel from far and wide to get tattoos that include figures from the world of
Star Wars
and celebs.
The Plot:
In each episode of Epic Ink, the talented staff brings comics, cartoons and fantasy to life with unique ink ranging from portraiture to hyperrealism, to geek-culture mash-ups. From closet nerds to creative cosplayers, sci-fi fans travel to Springfield from across the country to get tattoos from the artists at the shop. The Area 51 clientele even includes a few celebrities, such as Butch Patrick (Eddie Munster) and the Mistress of the Dark herself, Elvira, who appears in an upcoming episode to get her very first tattoo. In between clients, the staff is likely to be found debating over who would win a fight – Spock or Chewbacca – or which '80s Saturday morning cartoon was best. When they're not working at the shop, this family of misfits travels around the world tattooing at comic cons and tattoo shows to share their talents and geek out with the most hardcore fans around.
The cast of Epic Ink features some of the most talented tattoo artists in the world, including five of only a handful of tattooists worldwide who are licensed by LucasFilms to tattoo their properties. Chris 51 is one of the most well-respected tattoo artists around and the proud owner of Area 51, located in the hometown of his most beloved cartoon family, The Simpsons. Welshman Chris Jones has been nominated for three-consecutive Tattoo Industry Awards for Best UK Male. Wild child Heather Maranda is a self-taught artist who specializes in hyper-realistic tattoos that appear to jump out of the skin. Josh Bodwell combines his love of geek culture and tattoo art into custom realism and portraiture tattoos and is a walking encyclopedia of sci-fi trivia. After early run-ins with the law, Lifelong sci-fi fan Jeff Wortham looked to tattooing to turn his life around and now travels the globe to tattoo at sci-fi conventions. Rounding out the group is receptionist Caroline Russell who serves as the "Nerdio translator" between the full-fledged geeks and the rest of the world.
In the premiere episode, Josh takes a client down the rabbit hole with an Alice in Wonderland tattoo. When Heather crafts an epic portrait of a beloved Goonies character, the gang is shocked to learn that Caroline has never seen the '80s classic. Chris Jones gives a client a Herculean Arnold Schwarzenegger tattoo to match his stature, naturally launching the rest of the staff into conversation over their favorite Schwarzenegger flick.
Source: A&E
-By Rebecca Murray
Follow Us On: