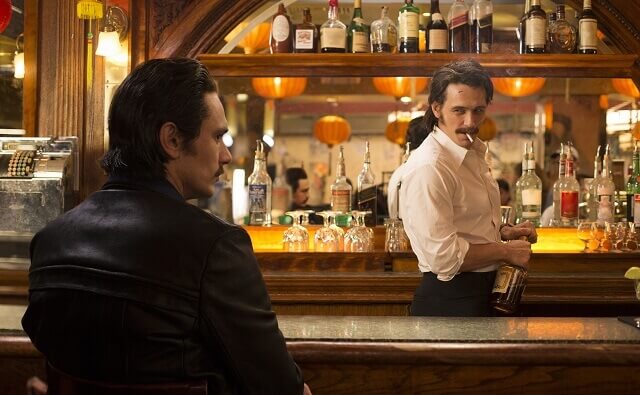 HBO's released details on its new dramatic series The Deuce starring James Franco and Maggie Gyllenhaal. The Deuce was created by The Wire's David Simon and George Pelecanos and, according to HBO, its title refers to the slang term for New York's 42nd Street. The Deuce will premiere on Sunday, September 10, 2017 at 9pm ET/PT, with the first season consisting of eight episodes.
The cast of season one includes Gary Carr, Margarita Levieva, Lawrence Gilliard, Jr, Dominique Fishback, Emily Meade, Gbenga Akinnagbe, Chris Bauer, Chris Coy, Natalie Paul, and Michael Rispoli. The series is executive produced by Simon, Pelecanos, Franco, and Nina K. Noble.
Commenting on the new series, Pelecanos said, "Times Square in the 1970s is now chiefly remembered as the ground zero of decadence and depravity, but what's often left out of the picture is that, for many, it was a hotbed of experimentation, adventure and sexual liberation. The music, the outlandish outfits, the beautiful cars made in Detroit and particularly the decade's time-capsule, shot-in-New York films [Mean Streets, The French Connection, Black Caesar] were a great inspiration for us when we were designing the look and feel of our debut season of The Deuce."
The Plot and Character Descriptions: The Deuce follows the rise of the porn culture in New York from the early 1970s through the mid-1980s, exploring the rough-and-tumble world of the sex trade from the moment when both a liberalizing cultural revolution in American sexuality and new legal definitions of obscenity created a billion-dollar industry that is now an elemental component of the American cultural landscape. Beginning in 1971, the show follows a cast of barkeeps, prostitutes, pimps, police and nightlife denizens as they swirl through a world of sex, crime, high times and violence and the porn business begins its climb from Mafia-backed massage parlors and film labs to legitimacy and cultural permanence.
Vincent Martino (James Franco) is a successful and astute barman with a knack for promotion who finds himself – with increasing reluctance – in the center of the city sex trade after he attracts the interest of a well-connected mob player, Rudy Pipilo (Michael Rispoli). A Gambino captain, Rudy represents that New York family's financial interests in the midtown sex business. After Abby Parker (Margarita Levieva) drops out of NYU, she and Vincent begin a relationship that ultimately challenges them both. Vince's identical twin brother Frankie is Vincent's freewheeling, free-spirited counterpart, who gets by on his brother's support, but is increasingly drawn toward Pipilo's business interests.
Candy (Maggie Gyllenhaal) works as an independent prostitute, refusing to work under any of the multitude of street pimps who control much of the trade along Eighth and Ninth Avenues. She has a son who lives with her parents in the suburbs, but her ambition and intelligence – as well as a weariness with street life – lead her to the emerging porn business, where she sees potential for herself and, perhaps, her fellow streetwalkers.
Darlene (Dominique Fishback), a young but street-smart woman from North Carolina, uses her savvy to manage her volatile pimp, Larry Brown (Gbenga Akinnagbe), while Lori (Emily Meade), a 20-year-old fresh off a Greyhound from Minnesota, is taken into the fold of dapper pimp C.C. (Gary Carr) immediately upon her arrival at Port Authority. C.C. is equally capable of charm and brutality in managing his prostitutes, while Larry Brown controls his stable – Darlene, Loretta (Sepideh Moafi) and Barbara (Kayla Foster) – largely through intimidation.
Chris Alston (Lawrence Gilliard, Jr.) is a cop on the midtown beat who questions his superiors' methods, if not the entire premise of trying to police the sex trade amid a culture of unrelenting demand for sex and institutional corruption within the New York Police Department. When told to stop policing a particular swath of his precinct, just west of Times Square, Alston starts a quiet inquiry that brings him together with Sandra Washington (Natalie Paul), an aspiring reporter who is probing the sex industry.
Meanwhile, bartender Paul (Chris Coy), inherited by Vincent Martino as he takes over a Mob-backed midtown bar, traverses the early years of the increasingly open post-Stonewall culture of gay New York, all with an eye to running a nightspot of his own. All these storylines merge as some of the streetwalkers, excited by the prospect and promise of stardom, find new work amid the rapid acceleration in pornographic production in New York.
The Deuce September 2017 Episodes:
Episode #1: "Pilot"
Debut date: SUNDAY, SEPT. 10 (9:00-10:25 p.m. ET/PT)
Twin brothers Vincent (James Franco) and Frankie Martino (James Franco) – one a double-shifting bartender with two kids and a wayward wife in Brooklyn, the second an insouciant gambler with piling mob debts – navigate their way through the rough-and-tumble world of 1971 Times Square.
While Vincent plots ways to improve his situation and pay off his brother's debt, he crosses paths with other midtown denizens – including veteran hookers Candy (Maggie Gyllenhaal) and Ashley (Jamie Neumann), young streetwalkers Darlene (Dominique Fishback) and Lori (Emily Meade), and smooth-talking pimps C.C. (Gary Carr), Larry (Gbenga Akinnagbe) and Rodney (Cliff Smith/Method Man) – as they ply their trades under the not-so-watchful eye of the NYPD. Meanwhile, when NYU student Abby (Margarita Levieva) is enlisted by friends to buy amphetamines on the street, she ends up in the Times Square precinct, an unlikely starting point for making a bold change to her privileged life.
Written by George Pelecanos & David Simon; directed by Michelle MacLaren.
Episode #2: "Show and Prove"
Debut date: SUNDAY, SEPT. 17 (9:00-10:00 p.m.)
With his marriage failing, Vincent (James Franco) moves into a seedy Times Square hotel and, fueled by his success drawing customers to a struggling Korean bar, contemplates a tempting offer from mob capo Rudy Pipilo (Michael Rispoli). Meanwhile, Vincent and Frankie's (James Franco) brother-in law, Bobby (Chris Bauer), a Brooklyn construction foreman, eyes Vincent's new connections as a way to better his own lot.
Reluctantly agreeing to pinch-hit for a friend in a pornographic short, Candy (Maggie Gyllenhaal) ends up being intrigued by the filmmaking process. C.C. (Gary Carr) shows Lori (Emily Meade) the advantages of having a pimp, while Larry (Gbenga Akinnagbe) is unsettled by Darlene's (Dominique Fishback) interest in literature – and by Sandra Washington (Natalie Paul), a reporter. Police officers Chris Alston (Lawrence Gilliard, Jr.) and Danny Flanagan (Don Harvey) are joined by detectives Grossman (Brian Muller) and Haddix (Ralph Macchio) for a routine hooker round-up, as well as a raid of an adult porn shop whose peep shows cross the line.
Written by Richard Price & George Pelecanos; directed by Ernest Dickerson.
Episode #3: "The Principle Is All"
Debut date: SUNDAY, SEPT. 24 (9:00-10:00 p.m.)
Putting the finishing touches on his new bar, Vincent (James Franco) is blindsided by the sudden appearance of an unexpected partner, causing Frankie (James Franco) to blow a gasket. Rudy (Michael Rispoli) buys into a rival's plan to reconfigure The Deuce, hopefully with the support of an ambitious mayor. Candy (Maggie Gyllenhaal) eyes an entrée into the filmmaking business; Abby (Margarita Levieva) languishes in her new job; Darlene (Dominique Fishback) works overtime to compensate Larry (Gbenga Akinnagbe); C.C. (Gary Carr) tasks Lori (Emily Meade) to play the "long game"; Bobby (Chris Bauer) pays a price for his recent stress at work. Big Mike (Mustafa Shakir), a menacing drifter, proves useful to Vincent as the Hi-Hat finally opens.
Written by David Simon & Richard Price; directed by James Franco.