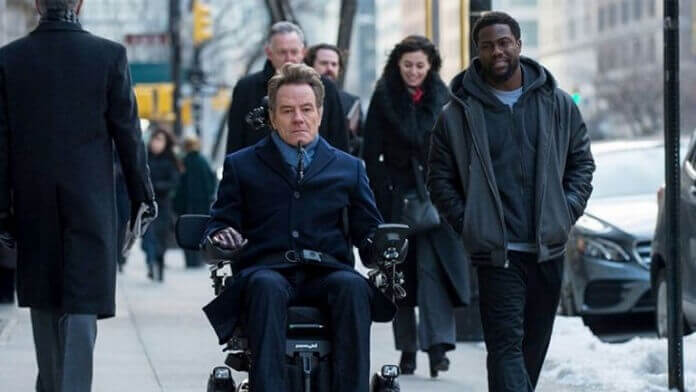 STXfilms and Lantern Entertainment will be distributing The Upside after making a deal for the project which had been left hanging following The Weinstein Company's bankruptcy filing. The film's already screened on the festival circuit, debuting in 2017 at the Toronto International Film Festival where it received mixed reviews.
The cast is led by Kevin Hart and Bryan Cranston. Nicole Kidman, Julianna Margulies, and Aja Naomi King also star in the feature film inspired by a true story.
A French-language version of the story was told in The Intouchables released in 2011 and starring Francois Cluzet, Omar Sy, Anne Le Ny, and Audrey Fleurot. The Intouchables earned Golden Globe, BAFTA, and Broadcast Film Critics Association nominations.
The Upside was written by Jon Hartmere and directed by Neil Burger.
"This is a hilariously funny and emotionally affecting film. It evokes elements of films like Trading Places and Scent of a Woman, while still being completely fresh with characters that are as memorable as they are hysterical," stated STXfilms Chairman Adam Fogelson. "Neil did an incredible job with this comedy and we can't wait to work with Kevin Hart, Nicole Kidman and Bryan Cranston. We are thrilled to add The Upside to the STXfilms slate and we look forward to working with the team at Lantern Entertainment."
The Upside is an Escape Artists production with Jason Blumenthal, Todd Black and Steve Tisch producing. The behind the scenes team includes director of photography Stuart Dryburgh, editor Naomi Geraghty, and production designer Mark Friedberg.
"STX is an ideal distribution partner for this heartwarming film that has universal appeal and features world-class performances. We are grateful for this partnership and look forward to fostering a productive relationship with the entire STX team," said Andy Mitchell from Lantern Entertainment.
The Plot: The Upside is a heartfelt comedy about a recently paroled ex-convict (Kevin Hart) who strikes up an unusual and unlikely friendship with a paralyzed billionaire (Bryan Cranston).