It wasn't difficult to keep my list of the best comedy movies of 2015 to 10 as there just weren't that many funny movies in theaters this year. Three sequels, one remake, a coming of age film, a vampire mockumentary, and a spoof on spy films earned spots on this year-end list.
2015's Funniest Films in Alphabetical Order:
The Duff starring Mae Whitman, Skyler Samuels, Biana Santos, Robbie Amell, Ken Jeong, Romany Malco, and Alison Janney
The Plot: Bianca (Mae Whitman) is a content high school senior whose world is shattered when she learns the student body knows her as 'The DUFF' (Designated Ugly Fat Friend) to her prettier, more popular friends (Skyler Samuels & Bianca Santos). Now, despite the words of caution from her favorite teacher (Ken Jeong), she puts aside the potential distraction of her crush, Toby (Nick Eversman), and enlists Wesley (Robbie Amell), a slick but charming jock, to help reinvent herself. To save her senior year from turning into a total disaster, Bianca must find the confidence to overthrow the school's ruthless label maker Madison (Bella Thorne) and remind everyone that no matter what people look or act like, we are all someone's DUFF.
Why It Worked: Smart writing and a terrific young cast made The Duff one of the better coming of age films of the past decade. The film not only delivered an important message, it also had heart along with plenty of laughs.
Grandma starring Lily Tomlin, Julia Garner, Marcia Gay Harden, Judy Greer, Laverne Cox, and Sam Elliott
The Plot: Elle Reid (Lily Tomlin) has just gotten through breaking up with her girlfriend when Elle's granddaughter Sage (Julia Garner) unexpectedly shows up needing $600 bucks before sundown. Temporarily broke, Grandma Elle and Sage spend the day trying to get their hands on the cash as their unannounced visits to old friends and flames end up rattling skeletons and digging up secrets.
Why It Worked: Lily Tomlin and Julia Garner have solid chemistry in this unusual roadtrip film that appeals to adult audiences.
Magic Mike XXL starring Channing Tatum, Joe Manganiello, Matt Bomer, Kevin Nash, Adam Rodriguez, Jada Pinkett Smith, and Elizabeth Banks
The Plot: Picking up the story three years after Mike (Channing Tatum) bowed out of the stripper life at the top of his game, Magic Mike XXL finds the remaining Kings of Tampa likewise ready to throw in the towel. But they want to do it their way: burning down the house in one last blow-out performance in Myrtle Beach, and with legendary headliner Magic Mike sharing the spotlight with them. On the road to their final show, with whistle stops in Jacksonville and Savannah to renew old acquaintances and make new friends, Mike and the guys learn some new moves and shake off the past in surprising ways.
Why It Worked: Magic Mike XXL accomplished something that doesn't happen often with sequels: it was better than the original movie. The 2015 stripper comedy actually went for it while the original film held back far too much. Women wanted to see Tatum and the crew stripping and having fun on screen, and Magic Mike XXL served up just that.
Pitch Perfect 2 starring Anna Kendrick, Rebel Wilson, Hailee Steinfeld, Brittany Snow, Skylar Astin, Adam DeVine, Katey Sagal, Anna Camp, Ben Platt, Alexis Knapp, Hana Mae Lee, John Hodgman, Jason Jones, Joe Lo Truglio, Reggie Watts, John Michael Higgins and Elizabeth Banks
The Plot: Becca, Chloe, Fat Amy, and the rest of the girls are back to compete in an international a cappella competition that no American team has ever won.
Why It Worked: The entire main cast returned and managed to capture the fun of the original film while not copying Pitch Perfect's formula but instead advancing the story. Elizabeth Banks stepped behind the camera to direct and did a terrific job of guiding the huge ensemble through the sequel.
Sisters starring Tina Fey, Amy Poehler, Maya Rudolph, Ike Barinholtz, James Brolin, John Cena, John Leguizamo and Dianne Wiest
The Plot: Tina Fey and Amy Poehler reunite for Sisters, a film from Pitch Perfect director Jason Moore about two disconnected sisters summoned home to clean out their childhood bedroom before their parents sell the family house. Looking to recapture their glory days, they throw one final high-school-style party for their classmates, which turns into the cathartic rager that a bunch of ground-down adults really need.
Why It Worked: Amy Poehler and Tina Fey may not look like sisters but they know each other so well that there's a genuine sisterly vibe that comes across in Sisters. An R-rated comedy for adults, this end-of-the-year offering is well worth a trip to the theater.
Spy
starring Melissa McCarthy, Rose Byrne, Jude Law, Jason Statham, Bobby Cannavale, Allison Janney, Curtis "50 Cent" Jackson, and Miranda Hart
The Plot:
Susan Cooper (Melissa McCarthy) is an unassuming, deskbound CIA analyst, and the unsung hero behind the Agency's most dangerous missions. But when her partner (Jude Law) falls off the grid and another top agent (Jason Statham) is compromised, she volunteers to go deep undercover to infiltrate the world of a deadly arms dealer and prevent a global disaster.
Why It Worked:
Melissa McCarthy is a great physical comedian, but with Spy she transforms into a believable action heroine. Jason Statham's never been funnier, and Rose Byrne works so well off of McCarthy that the two (who worked together in
Bridesmaids
) need to get back together soon.
Ted 2 starring Mark Wahlberg, the voice of Seth MacFarlane, Amanda Seyfried, Giovanni Ribisi, John Slattery, and Morgan Freeman
The Plot: In the years since we last saw John and Ted, they're both still living the dream in Boston. Although John is now a bachelor, Ted has settled down with Tami-Lynn, the trashy woman of his dreams. As marital problems begin to affect the newlyweds, Ted and Tami-Lynn decide to have a baby in order to save their marriage. Their hopes are crushed when the Commonwealth of Massachusetts declares Ted to be not a person, but property, and therefore ineligible to adopt. He is fired from his job at the grocery store and summarily informed that his marriage has been annulled. Angry and dejected, Ted channels his frustration and asks his best pal to help him sue the state and win him the rights that he deserves.
Why It Worked: Ted introduced the world to a trash-talking Teddy bear, but the sequel goes further and gives the not-so-snuggly bear a real personality.
Vacation starring Ed Helms, Christina Applegate, Leslie Mann, Beverly D'Angelo, Chevy Chase, Chris Hemsworth, Skyler Gisondo, and Steele Stebbins
The Plot: The next generation of Griswolds is at it again-and on the road for another ill-fated adventure. Following in his father's footsteps and hoping for some much-needed family bonding, a grown-up Rusty Griswold (Ed Helms) surprises his wife, Debbie (Christina Applegate), and their two sons with a cross-country trip back to America's "favorite family fun park," Walley World.
Why It Worked: Some people were turned off by the very idea of a remake/re-imagining of Vacation, but this trip to Walley World remained true to both the tone and the spirit of the 1983 comedy. Plus, watching Chris Hemsworth strut around in his tighty whities was quite enjoyable!
The Voices starring Ryan Reynolds, Gemma Arterton, Anna Kendrick, and Jacki Weaver
The Plot: Jerry (Ryan Reynolds) is that chipper guy clocking the nine-to-five at a bathtub factory, with the offbeat charm of anyone who could use a few friends. With the help of his court-appointed psychiatrist (Weaver), he pursues his office crush (Gemma Arterton). However, the relationship takes a sudden, murderous turn after she stands him up for a date. Guided by his evil talking cat and benevolent talking dog, Jerry must decide whether to keep striving for normalcy, or indulge in a much more sinister path.
Why It Worked: This twisted dark comedy/horror film came and went in theaters without anyone taking much notice, but it's well worth checking out on DVD. Ryan Reynolds' character carries on outrageous conversations with his dog and cat, and as the film goes on you're actually rooting for the furry duo to survive the mayhem and star in their own spinoff.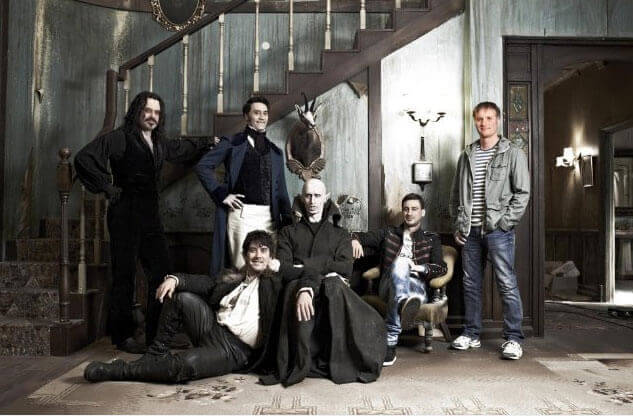 What We Do in the Shadows starring Jemaine Clement, Taika Waititi, Rhys Darby, Jonathan Brugh, Cori Gonzalez-Macuer, Stu Rutherford, and Jackie Van Beek
The Plot: What We Do in the Shadows chronicles the adventures of four vampire roommates trying to get by in a modern world that's not always hospitable to the undead. Jemaine Clement and Taika Waititi co-wrote, co-directed, and co-star in this hilarious send-up in which an endearingly unhip quartet of friends reveal to us or, rather, to the documentary crew that's filming them, the details of their daily-make that nightly-routine. Ranging in age from 183 to 8,000, and in appearance from adorably youthful to Nosferatu-crusty, they squabble over household chores, struggle to keep up with the latest trends in technology and fashion, antagonize the local werewolves, cruise clubs for lovely ladies, and deal with the rigors of living on a very, very strict diet.
Why It Worked: The best mockumentary since Spinal Tap, What We Do in the Shadows is absolutely hilarious. Had this list not been sorted alphabetically, What We Do in the Shadows would have been featured in the top spot.
Also of Interest: 2015's Best Movies / Top 10 Action Films of 2015