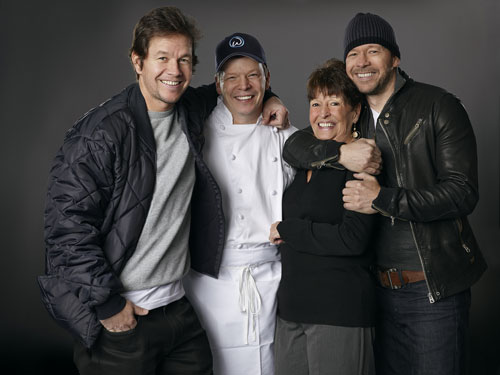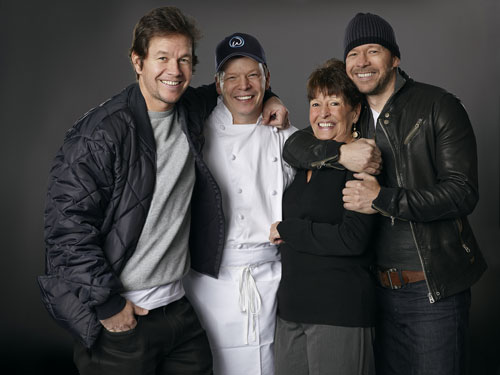 There's a marathon to be run, an annual family reunion to plan, and secret recipes to figure out during the one-hour summer Wahlburgers special on A&E. The special will air on Sunday, June 29, 2014 at 10pm ET/PT and will feature all of the members of the Wahlberg family including Mark, Jim, Donnie, Paul, and Alma, as well as some of Donnie's New Kids on the Block band mates.
The series is executive produced by Mark Wahlberg, Donnie Wahlberg, and Stephen Levinson along with Rasha Drachkovitch, Lily Neumeyer and Devon Graham.
The Wahlburgers Summer Special Plot:
It's summertime in Boston and the Wahlbergs are kicking off the season with their annual family reunion. This year there is a lot to celebrate at the reunion. It's also Patriots' Day and Jim Wahlberg, brother of Mark, Donnie and Paul, is in town to run the Boston Marathon. The whole family is eager to rally around and show their support for Jim as well as a couple of Donnie's New Kids On The Block band members who are running the race this year. To honor the occasion, Alma wants to have a personal medal made for Jim but complications arise when she tries to have the medal delivered in time for the race.
Paul plans to help out preparing food for the big reunion after the race but first he must learn the secret recipe for Uncle Archie's meatballs, a recipe that Uncle Archie is quite protective of and is not so eager to give out.
Meanwhile, Mark offers to set up his hometown entourage, Johnny "Drama" Alves and Henry "Nacho" Laun, with an acting job, which turns out to be very different than what they had in mind.
Source: A&E
-By Rebecca Murray
Follow Us On:
Stumble It!