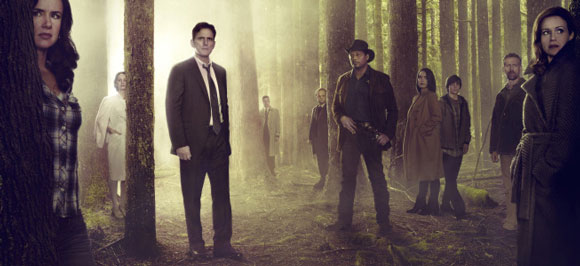 Fox will premiere the second season of Wayward Pines on Wednesday, May 25, 2016 at 9pm ET/PT, taking over the time slot after Empire airs its season two finale. The second season of Wayward Pines will consist of 10 hour-long episodes starring Jason Patric, Djimon Hounsou, and Hope Davis. The network also confirmed season one cast members Terrence Howard ('Sheriff Arnold Pope'), Carla Gugino ('Kate Hewson'), Toby Jones ('Dr. Jenkins/David Pilcher'), Melissa Leo ('Nurse Pam'), Tim Griffin ('Adam Hassler'), Shannyn Sossamon ('Theresa Burke') and Charlie Tahan ('Ben Burke') are returning for the new season.
The series is based on Blake Crouch's books and executive produced by Crouch, M. Night Shyamalan, Donald De Line, Ashwin Rajan, and Mark Friedman. Friedman's also the showrunner. Season one averaged 9.4 million viewers and earned the top spot as the summer of 2015's most viewed broadcast scripted series among adult audiences.
Details on Wayward Pines season two: The second season will pick up after the shocking events of Season One, with the residents of Wayward Pines battling against the iron-fisted rule of the First Generation. Dr. THEO YEDLIN (Patric) – a new resident of Wayward Pines – awakens from suspended animation and finds himself in the middle of this rebellion, as he tries to understand what Wayward Pines really is and help preserve the endangered human race.
Also joining the second season are cast members Tom Stevens, returning from Season One as JASON HIGGINS, a member of the First Generation and Pilcher's young acolyte; Nimrat Kaur as REBECCA, who has her own secrets she keeps from Theo, her husband; Josh Helman as XANDER, a resident working to undermine Wayward Pines from within; and Kacey Rohl as KERRY, one of Jason's lieutenants in the civil war going on in Wayward Pines.