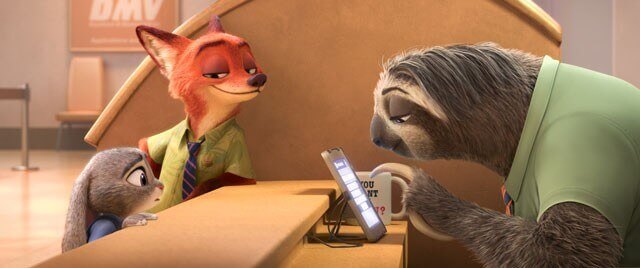 "I know a guy…you need something done, he's on it," says Nick Wilde (voiced by Jason Bateman). "Wait, they're all sloths!" replies Judy Hopps (voiced by Ginnifer Goodwin) as they arrive at the DMV trying to rundown a license plate number in the animated Disney film, Zootopia.
All her life, bunny Judy Hopps wanted to be a police officer and help make the world a better place. When she grows to young adult bunnyhood, she leaves her home on the farm and moves to the mammal metropolis known as Zootopia to become the very first bunny police officer. Her happiness doesn't last long, however, when she's basically demoted on her first day to being a meter maid. Still determined to prove to Chief Bogo (voiced by Idris Elba) that she's meant to be a cop, Judy sets out to write over 200 parking tickets before noon.
While on her beat she comes across a sly fox named Nick Wilde who cons her into buying a very large ice bar for who she believes to be his son. Later that day she sees the young fox driving a van and realizes she was tricked. She confronts Nick and he quickly reminds her that he has broken no laws and she's just a dumb bunny. When Judy is back at the police station, she overhears people talking about Mr. Otterman who's gone missing. She steps in and volunteers to take the case as the Chief is trying to quickly get rid of the wife of the missing animal. This ticks off the Chief who gives Judy an ultimatum: she solves the case in 48 hours or resigns.
While looking for any leads, Judy notices something unusual in the last street photo taken of the missing animal. There are red stains from the red ice bar that Nick gets someone to pay for so he can melt it and re-freeze it to make money. Judy realizes that the fox was one of the last animals to see Mr. Otterton before he went missing. She tracks down Nick and threatens to arrest him for income tax evasion – the fox mentioned to Judy when he was insulting her intelligence that he's been conning people since he was 12. This prompted the 'dumb bunny' to check his records and discover he didn't declare any income on his tax forms. If he doesn't help her track down Mr. Otterman, she'll turn him in. And thus the unlikely team of Officer Judy Hopps and Nick Wilde is born.
Bright, colorful, and visually impressive, Zootopia is a funny, energetic, and imaginative adventure with wonderful animation and a strong voice cast. Ginnifer Goodwin is perfect as the voice of Judy Hopps, the cute, upbeat, eternally positive bunny who desperately wants to prove herself as a cop and help make the world a better place. She gives Judy the high-energy and likable personality that will have the audience rooting for her early on. Jason Bateman does a fantastic job bringing to life the voice and personality of Nick Wilde, the sly con-artist fox who gets blackmailed into being Judy's partner on the mystery case only to start to appreciate her dedication and "won't quit" attitude. It's the chemistry and growing friendship of these two unlikely characters that drives the film.
The animation and visual designs are gorgeous. Especially awe-inspiring is the scene where Judy takes the train ride in from her farm to Zootopia with its lavish colors and breathtaking look of the huge city. The writing is sharp and witty with some very funny laugh-out-loud lines and has solid, positive messages about believing in yourself, not giving up on your dreams, giving someone a chance, and not judging someone by how they appear.
Cute, smart, original, and very funny, Zootopia has everything you could ask for from a Disney animated movie. It's a real must see.
GRADE: B+
MPAA Rating: PG for some thematic elements, rude humor and action
Running Time: 108 minutes
Directed By: Byron Howard, Rich Moore and Jared Bush
Release Date: March 4, 2016