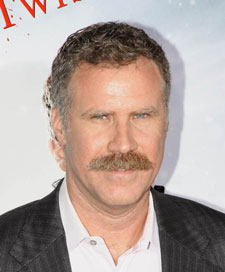 Go ahead and chuckle away…but that's the title. Will Ferrell and Kevin Hardy really are teaming up for a comedy movie and it really is called
Get Hard
. The comedy marks screenwriter Etan Cohen's (
Tropic Thunder
) first film as director and he worked on the script along with Jay Martel and Ian Roberts. Ferrell, Adam McKay, and Chris Henchy are producing and Kevin Messick and Ravi Mehta are on board as executive producers.
The cast of
Get Hard
also includes Craig T. Nelson, Alison Brie, and Tip "T.I." Harris.
Filming is currently underway in New Orleans. Warner Bros Pictures is eyeing a March 27, 2015 theatrical release.
The Plot:
When millionaire hedge fund manager James King (Ferrell) is nailed for fraud and bound for a stretch in San Quentin, the judge gives him 30 days to get his affairs in order. Desperate, he turns to Darnell Lewis (Hart) to prep him for a life behind bars. But despite James' one-percenter assumptions, Darnell is a hard-working small business owner who has never received a parking ticket, let alone been to prison. Together, the two men do whatever it takes for James to 'get hard' and, in the process, discover how wrong they were about a lot of things – including each other.
Source: Warner Bros

-Posted by Rebecca Murray
Follow Us On:
Stumble It!