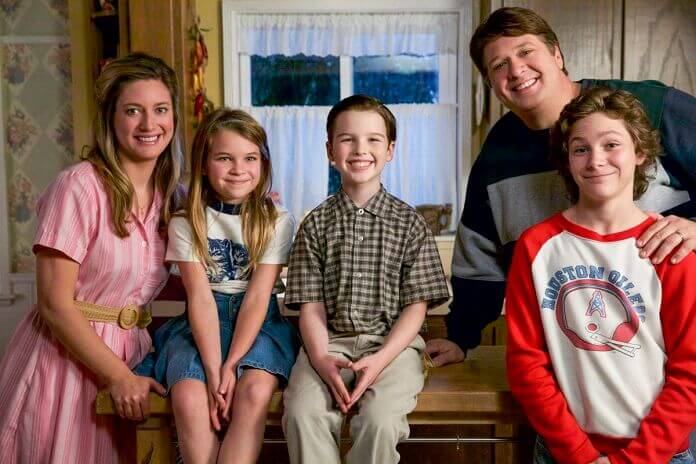 CBS is so pleased with Young Sheldon that they've given the comedy series an early season two renewal order. Young Sheldon has the distinction of being the network's first renewal for the 2018-2019 primetime season.
Per CBS, Young Sheldon hit the #1 spot in the new comedy rankings by pulling in 16.17 million viewers. The Big Bang Theory prequel also ranks as the #2 comedy among all network comedies, behind only the series that spawned it. CBS also reports Young Sheldon is the most-watched new comedy series on any network in 18 years.
"Young Sheldon has made a huge impact on our schedule in the short time it's been on the air," stated Kelly Kahl, President, CBS Entertainment. "While the show's DNA is clearly rooted in The Big Bang Theory, Young Sheldon has staked out its own place in the TV universe with a unique creative tone, brilliant writing and a gifted multi-generational cast. We can't wait to see Chuck, Steve, Jim and Todd's vision for how the Cooper family deals with Sheldon growing a year older…and smarter."
The cast of the half-hour single camera series is led by Iain Armitage and includes Zoe Perry, Lance Barber, Annie Potts, Raegan Revord, Montana Jordan, and the voice of Jim Parsons. Chuck Lorre, Steven Molaro, Jim Parsons, and Todd Spiewak are the show's executive producers.
The Plot: For 9-year-old Sheldon Cooper it isn't easy growing up in East Texas. Being a once-in-a-generation mind capable of advanced mathematics and science isn't always helpful in a land where church and football are king. And while the vulnerable, gifted and somewhat naïve Sheldon deals with the world, his very normal family must find a way to deal with him. His father, George, is struggling to find his way as a high school football coach and as father to a boy he doesn't understand.
Sheldon's mother, Mary, fiercely protects and nurtures her son in a town where he just doesn't fit in. Sheldon's older brother, Georgie, does the best he can in high school, but it's tough to be cool when you're in the same classes with your odd 9-year-old brother. Sheldon's twin sister, Missy, sometimes resents all the attention Sheldon gets, but also remains the one person who can reliably tell Sheldon the truth.
Finally, there's Sheldon's beloved Meemaw, his foul-mouthed, hard-drinking Texas grandmother who is very supportive of her grandson and his unique gifts. For 10 years on The Big Bang Theory, audiences have come to know the iconic, eccentric and extraordinary Sheldon Cooper. This single-camera, half-hour comedy gives us the chance to meet him in childhood, as he embarks on his innocent, awkward and hopeful journey toward the man he will become.