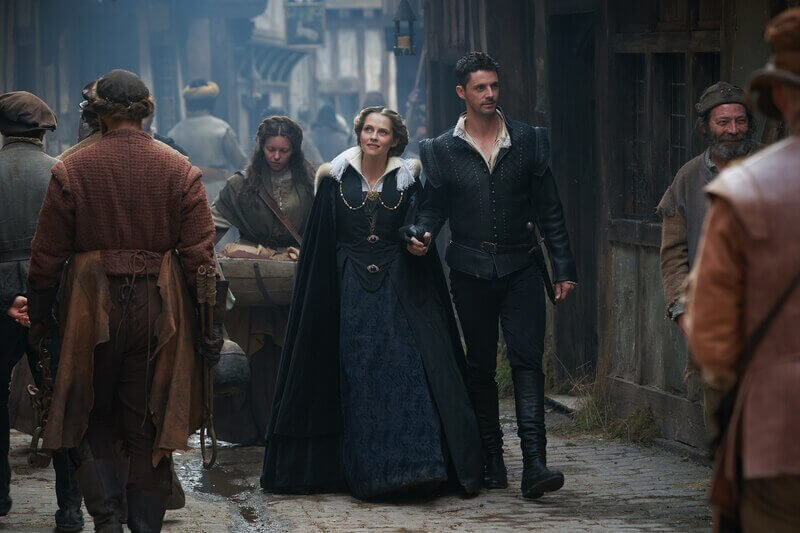 Sky's
A Discovery of Witches
is showing off the first official photo of
Matthew Goode
and
Teresa Palmer
in season two. The first-look photo shows Matthew and Diana (Palmer) walking the streets of Elizabethan London where they've escaped after their relationship caused trouble with the Congregation. The witch and vampire couple have traveled back to Matthew's past in search of the
Book of Life
and in hopes of finding someone able to help Diana learn how to use her powers.
Cast members reprising their roles for the second season include Owen Teale (Game of Thrones), Alex Kingston (Doctor Who), Lindsay Duncan (The Honourable Woman), Valarie Pettiford (Half & Half), and Edward Bluemel (The Commuter). Aiysha Hart (Line of Duty), Trevor Eve (Waking the Dead), Malin Buska (The Girl King), Gregg Chillin (Being Human), Trystan Gravelle (Mr Selfridge), Tanya Moodie (Sherlock), Aisling Loftus (War and Peace), and Daniel Ezra (All American) also return for season two.
In addition to releasing the official season two photo, Sky announced a bunch of new cast members:
Steven Cree (Outlander) plays Gallowglass De Clermont, a vampire and soldier of fortune who is particularly fond of his uncle, Matthew.
James Purefoy tackles the role of Philippe De Clermont, founder of the Congregation, commander of the Knights of Lazarus, mate of Ysabeau, and stepfather to Matthew.
Paul Rhys is Andrew Hubbard, the vampire ruler of all creatures in London in 1590.
Sheila Hancock appears as elder witch Goody Alsop.
Tom Hughes (Victoria) takes on the pivotal role of Kit Marlowe.
Newcomers to the A Discovery of Witches world also include Barbara Marten (Casualty) as Queen Elizabeth, Jacob Ifan (Cuffs) as Benjamin Fuchs, Holly Aird (Waking the Dead) as Francoise, and Michael Lindall (Deep State) as Sir Walter Raleigh. Adam Sklar (Faceless) is Henry Percy, Joshua Pickering is Jack Blackfriars, Elaine Cassidy (Harper's Island) is Louise De Clermont, Victoria Yeates (Call the Midwife) is Elizabeth Jackson / Water Witch, Adrian Rawlins (Chernobyl) is William Cecil, Lois Chimimba (Doctor Who) is Catherine Streeter/ Fire Witch, Amy McAllister (Philomena) is Marjorie Cooper/Earth Witch, and Milo Twomey (Mother, Father, Son) plays Pierre.
Season two will consist of 10 episodes and is based on Deborah Harkness' Shadow of Night from the All Souls trilogy. Expect to see the second season premiere in 2020 on Sky One and NOW TV.
"After the success of season one, we are really excited for the next installment of A Discovery of Witches, as we continue to follow the love story of Diana and Matthew and their adventures in Elizabethan London," said Cameron Roach, Sky Studios Director of Drama. "We have a great cast lined up and a unique historical setting, which we hope will further enchant fans. The hit fantasy series joins a host of new Sky original drama's we have coming to Sky One this year."
"To have such high calibre talent joining an already exceptional ensemble is a testament to Deborah Harkness' brilliant novels, Pete McTighe and Susie Conklin's scripts and to the immensely talented cast and crew working to bring all to life," stated Jane Tranter, Executive Producer, Bad Wolf. "The bar was set high with season one but season two is already shaping up to take fans into a new realm as we follow Diana and Matthew into Elizabethan England. With cast like this they will not be disappointed."
Season two was adapted from Deborah Harkness' book by Sarah Dollard (Doctor Who, Being Human), Susie Conklin (The Musketeers, Cranford) and Pete McTighe (Doctor Who). BAFTA award-winer Farren Blackburn (The Fades, Daredevil), Philippa Langdale (Skins, Waking the Dead) and Jonathan Teplitzkt (Broadchurch) directed season two.
The Season 2 Plot, Courtesy of Sky:
"Alongside the Elizabethan action, back in the present day, Diana's beloved aunts, Sarah and Em, must take shelter with notorious witch-hunter Ysabeau De Clermont at her ancestral home, Sept-Tours. Meanwhile, in Oxford, Marcus and Miriam take on Matthew's mantle to protect daemons Nathaniel and Sophie, whose pregnancy is advancing. And Gerbert, Knox, Satu and Domenico are determined to hunt down every clue they can to Diana's and Matthew's disappearance, and the secrets their allies are keeping from them."
More on A Discovery of Witches: